Digital Signage was meant to be practical and easy to use . . .
When it comes time to make updates or edits to the digital signs content nobody wants to think twice about how it is done or spend hours trying to create new content
For users with little or no graphic design capabilities
Master editing, updating and managing content within 15 minutes. This system is perfect for receptionists, front desk employees, restaurant owners, property managers, and any other non-technical individual.
Edit all text and messages

Easily change directory listings, suite numbers, names and other details

Change menu prices, descriptions and more

Upload images and easily swap out videos

Create welcome messages , and other daily notifications with PowerPoint files

Update, add or edit daily event and meeting listings
It is so easy to use, even Homer Simpson can do it

When creating the content we will set-up the Google account for you. Your username and password credentials will be provided to you after the system is installed.
G

o-to Google Drive

Enter login credentials

Make changes to content
Cutting-edge integration's make changing content easy
We will sync all text, image, and media zones with Google Drive and our proprietary digital signage software. This advanced integration makes changing content easy.
If you can type an email you can use this system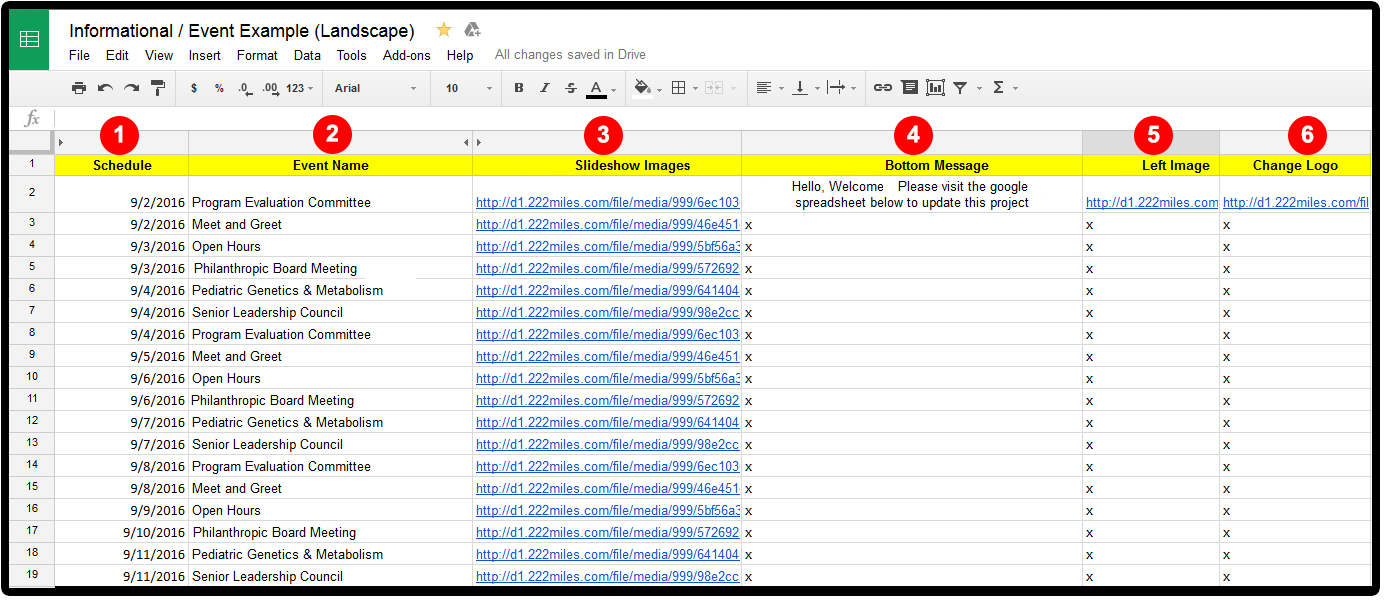 To edit a content zone simply make an update to the proper column featured in the Google Drive Spreadsheet we set-up for you.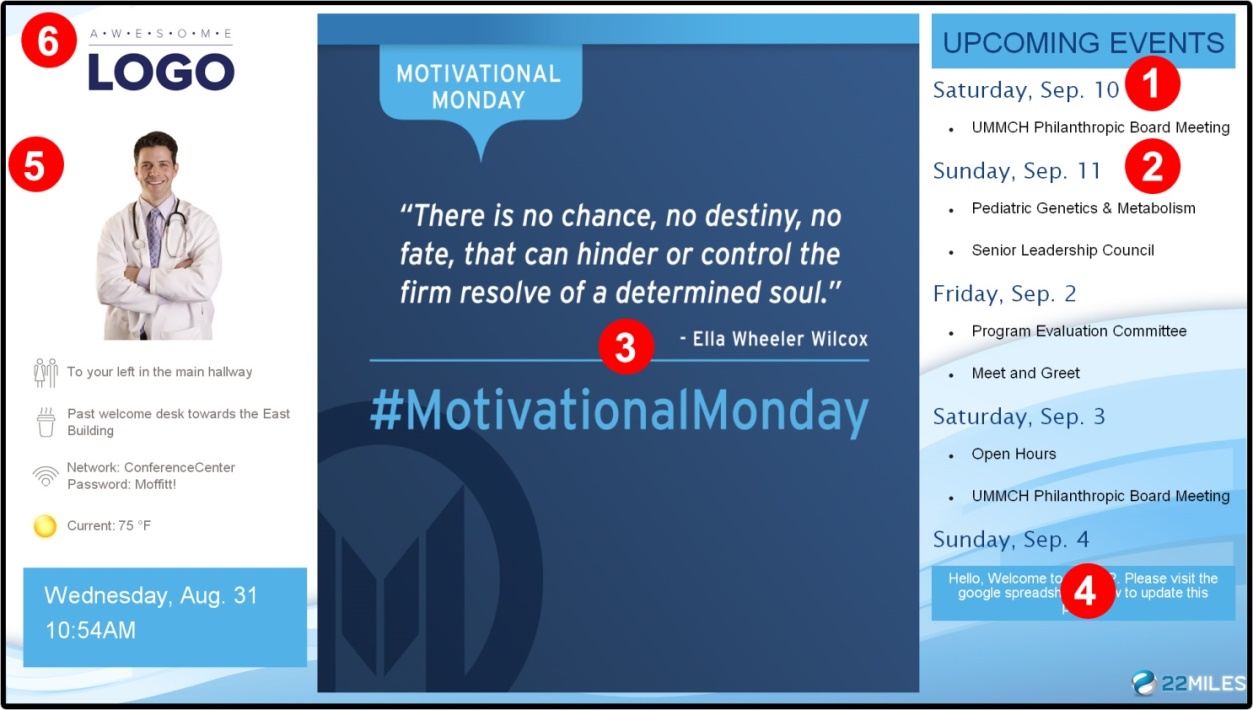 The numbers 1-6 in the example above represent the media zones that are connected to the cloud-based Google Drive Spreadsheet.
Our software does the heavy lifting for you
Once you've made your update in the Google Spreadsheet our software does the rest …
Our software auto resizes every image and video so it fits perfectly in the zone it belongs to

All text updates you make are auto-optimized to match the font size, color, and style of content

Every update you make is instantly saved and wirelessly sent to the display within 60 seconds
Yes, our software supports the file formats you know how to use
Audio formats (.MP3)

Image files (.JPEG, .PNG)

Text files (.TXT)

Video files (.MP4)

Excel (.XLS and .XLSX)

PowerPoint (.PPT and .PPTX)

Word (.DOC and .DOCX)

XML Paper Specification (.XPS)



We also support
Live news feeds

Weather forecasts

Streaming URL cable streams

Security camera feeds

Scrolling tickers

RSS feeds
FAQ
1. Google Drive is mentioned as a content sync location. Is this an account that our organization would need to create or is this accessing a vendor's account?
We will create the Google account for end-user and sync it with our software.
When the display is installed, we will provide Google information plus train end-user how to use.
2. Do the clients call to anything else outside of our firewall besides Google Drive?
Only if end-user request stream of information that requires internet connections.
An example of streams: weather forecast and daily news feeds.
3. For Network Load, is the content just pulled from the Google Drive location one time, cached locally, then stream it?
Correct all content is locally cached on the media player.
4. Is it reloaded on a regular interval, if so what is the frequency?
Content update interval time can be set per customer request.

5. What is the maximum file size that is supported?
Documents: Up to 1.02 million characters. If you convert a text document to Google Docs format, it can be up to 50 MB. Spreadsheets: Up to 2 million cells for spreadsheets that are created in or converted to Google Sheets. Presentations: Up to 100 MB for presentations converted to Google Slides.