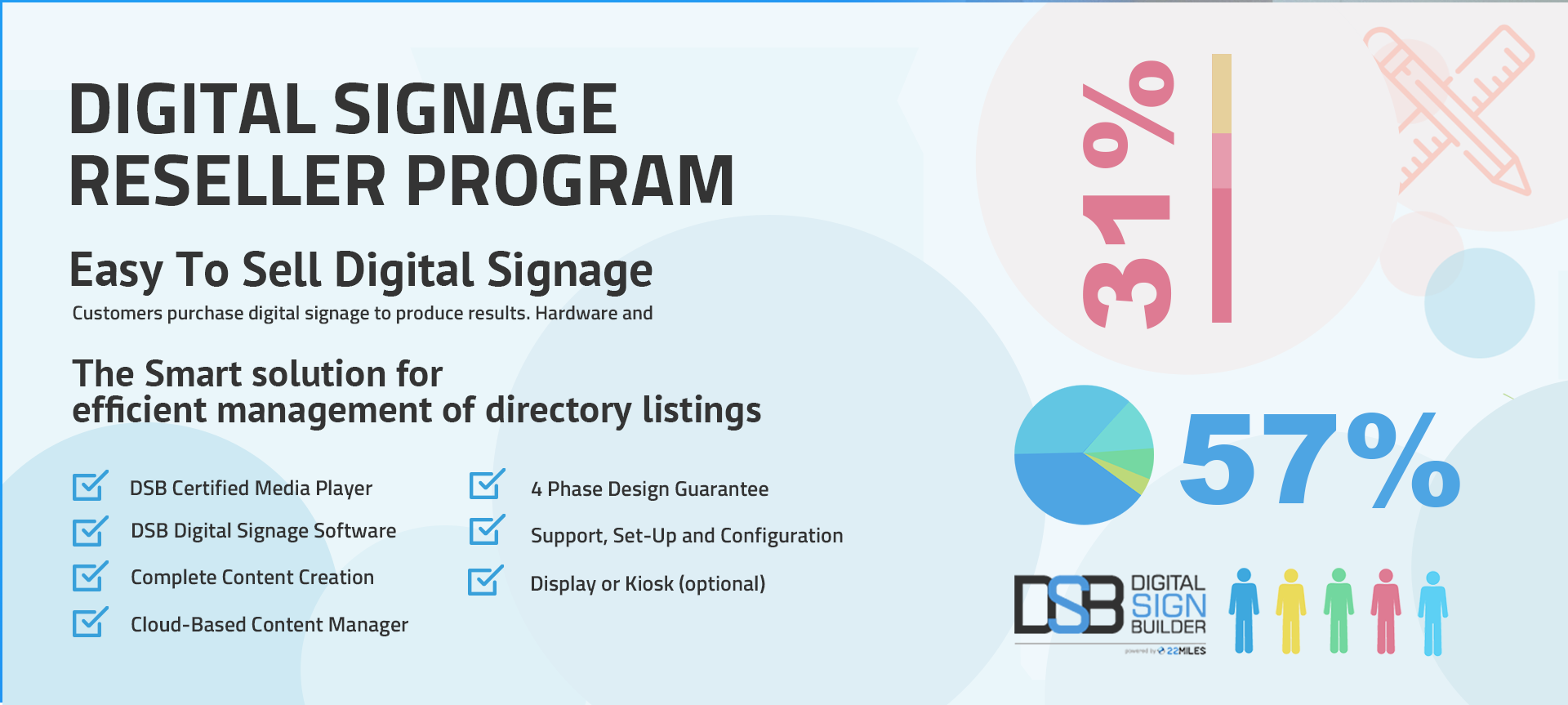 How Does Your Digital Signage Reseller Program Work?
You place an order and earn good margins on the sale
We will then create all custom content, set-up the software and prepare the media player
Your order then ships
You install the solution (and make more money)
We then train the customer on updating content
What Do DigitalSignBuilder VARS Receive?
Dedicated sales support to help you identify and close sales
Complete sales training for your team
Sales and marketing collateral
Complete pre-sale support
The best margins on products in the digital signage industry
Digital Signage Reseller Program Details
Your customer is not a graphic designer nor do they have the time to create content. Unlike other 'digital signage' companies we include true complete content creation and graphic design services with every package. All content designed is custom, compelling and generates the results your customers are looking for.
2. We Do The Heavy Lifting For You
We do the rest once your order is placed.  This means creating all content, setting up the software, configuring the media player, training your customer, and proving complete IT and Technical Support after the sale.
3. Satisfaction Guarantee
All of our solutions include the Industry's Only No Strings Attached 100% Digital Signage Design Satisfaction Guarantee.
4. We Handle All Support and Training
After the system sold support does not stop. Once installed we make sure everyone is fully trained and completely satisfied. We will make sure all users know how to make edits to content using their cellphone and computer.
Complete 120 Minute Initial Training
Dedicated Support Manager
Nationwide Customer Care Support
Monday - Friday Technical Support
Live 24/7 Technical Answering Service
Optional Installation Services
5. No Required Annual Software Fees (SaaS)
Most digital signage companies pitch "recurring revenue" models. That's not realistic. Your business owner. Would you like to be stuck paying an annual bill for a service? Probably not.
Every one of our packages our one-time cost. The option for renewal packages and extra services is available but no required.
Digital Signage Solutions You Can Sell
I AM INTERESTED IN SELLING DIGITAL SIGNAGE