AdSlide™ Digital Menu Boards

A Results Driven

solution for displaying high-impact digital menus

Increases

your 'ticket' amount by spotlighting high-margin listings

Dramatically

improve your brand identity with digital menu boards




Improves

your table turn-over rate by clearly displaying your menu

Easy

digital menu edits and updates using your iPhone!

Available in 32", 43", 48", 55" and 65"
Create the craving in your customers the moment they enter your establishment with AdSlide™ Digital Menu Boards. This exciting all-in-one digital signage menu board solution creates visual stimulation and will enable you to promote your highest margin food items, better upsell specials, and advertise upcoming events to each and every customer.
With the AdSlide™ Digital Menu Board Solution you can choose from over 17+ immersive digital menu board features plus an unlimited combination of distinctive menu board media zones for featuring:
• Impactful Full Motion Graphics Menu
• Engaging Food Combos with 3D Effects
• Sharp and Clear Menu Board Listings
• High Definition New Individual Food Items or Drinks
• Delicious Desserts & Appetizers
• Happy Hours Specials
What's Included?
Purchasing, receiving, and setting up this solution is as simple as ordering a pizza. Tell us the features you want, need and expect then we'll custom develop, test and set up everything for you. You will not have to spend time editing or 'customizing' templates, do graphic design or learn about complicated digital signage software.
When completed we'll ship you a ready to use system that simply works:
• AdSlide™ Digital Menu Board Software
• All-Inclusive Creative Design and Digital Menu Board Content Creation
• Industry's Only Digital Menu Signage Design Guarantee
• Digital Signage Menu Board Media Player w/ HDMI Cable
• Cloud-Based Digital Sign Menu Board Content Management (WI-FI)
• Full Training, Set-Up & Configuration
• 12 Month Technical Support
• Live Dedicated Support Specialist
Product Instructions:
It is 4 Easy Steps
1. Place order
2. We will then setup everything for you and ship you a total solution
3. Connect the AdSlide™ Menu Board Media Player to your display or kiosk and WI-FI
4. Turn it on and you are done! The software with content will automatically load
How to use digital menus to maximize profits and grow sales

Learn how to influence purchasing behaviors of customers in your restaurant while maximizing sales and reducing line wait times using this professionally designed turnkey digital menu board system
Wouldn't that be great! Every restaurant owner wants to make a bigger profit. It starts with creating an instant craving the minute your customer walk into the door.
But how?
Visually stimulate customers with the right combination of sharp, high definition images of food combined with an easy to read menu descriptions
Start with good images
Place clear high definition images of items where your customers are most likely to look first on the menu. This strategy opens the door to an in an increase in sales.
• Use a digital camera
• Try to get the entire plate with food image
• Plane or white background (preferably white)
• Use a spot with good light
• Little light can decrease the quality of the picture
• Different angle images for the same food item.
How to drive profits
The first, second, and last items listed in a particular category in your menu will sell more. To maximize profits make sure the items listed in these spots are your higher margin items.
The digital menu board price secret
Let your customers read the description and see the images first rather than shop by price. Add pricing to the end without a dollar sign and use smaller font size. This lets your guests learn about the item and want it first rather than purchasing on price.

Making this all happen
Send us the RAW or high-resolution JPG files of your food items plus your entire menu. Our professional design team will create the whole menu board layout, graphics, and set-up the technology for immediate plug and play use.

It will be engaging
This all-in-one menu system instantly creates visual excitement that will help you sell more food. The digital menu board system we create for you will consist of
• Impactful graphic design
• A compelling layout
• Correct menu alignment
• Engaging food images
• Easy to read menu listings
• Proper selection of fonts
• Your branding colors and company logo
How will I change prices, images, and items?
From anywhere at any time you can edit, update, and manage your entire menu boards system using your mobile phone, tablet, or computer. All changes you make are instantly wirelessly sent to the display.
When placing your order simply let us know which features you would like and our graphics design team will creatively incorporate everything you need into the digital signs interface. Remember, you can select as many features as you'd like and you'll always receive the same flat-rate price from us. We do not bill by sets of features, by "slides" or design time.
What the combination of features would like to incorporate into the displays interface?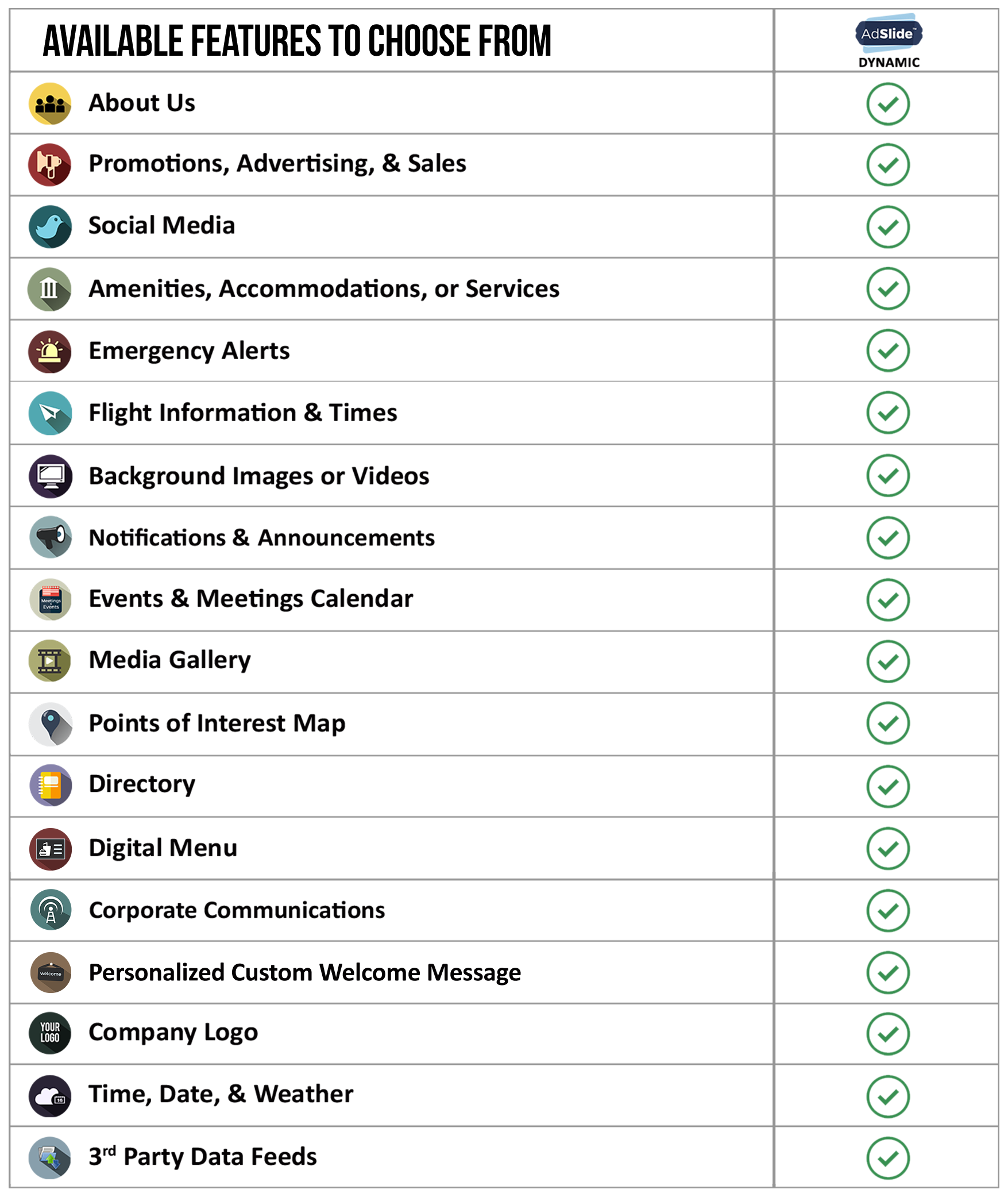 Use Your iPhone To Update The Digital Menu Boards Prices and Listings
This easy to use digital signage content management platform is ideal for users that have no graphic design capabilities and simply want to update media zones easily.
Average users master content management within 15 minutes! No drawn out webinar to attend.
• Edit all text and image zones
• Upload images right from your desktop
• Update media albums with video, powerpoint, and images
• Manage events, meetings, and other calendar events
• Create user groups for privilege control
• Remote access from any device, at any time
• Free to use cloud-based content manager
How does Google Drive Content Management work?
Using our Proprietary Publisher Pro Digital Signage software, we integrate every media and text zone with Google Drive.
This integration leverages the power of our all-in-one platform while eliminating the need for annual SaaS fees.
• Our software auto resizes every image and video you upload. No graphic design needed.
• All images sent to a media zone will be adjusted to fit perfectly inside the zone.
• All text updates you input are auto-optimized to match the font size, color, and style.
• Every change you make is wirelessly pushed to the display within minutes.
• Multi-User / Multi Admin control levels are available.
FAQ
Google Drive is mentioned as a content sync location. Is this an account that our organization would need to create or is this accessing a vendor's account?
We will create the Google account for end-user and sync it with our software.
When the display is installed, we will provide Google information plus train end-user how to use.
Do the clients call to anything else outside of our firewall besides Google Drive?
Only if end-user request stream of information that requires internet connections.
An example of streams: weather forecast and daily news feeds.

For Network Load, is the content just pulled from the Google Drive location one time, cached locally, then stream it?
Correct all content is locally cached on the media player.
Is it reloaded on a regular interval, if so what is the frequency?
Content update interval time can be set per customer request.

What is the maximum file size that is supported?
• Documents: Up to 1.02 million characters. If you convert a text document to Google Docs format, it can be up to 50 MB.
• Spreadsheets: Up to 2 million cells for spreadsheets that are created in or converted to Google Sheets.
• Presentations: Up to 100 MB for presentations converted to Google Slides.
What file types are supported?
General files
• Audio formats (MP3, MPEG, WAV, .ogg)
• Image files (.JPEG, .PNG, .GIF, .BMP)
• Text files (.TXT)
• Video files (WebM, .MPEG4, .3GPP, .MOV, .AVI, .MPEGPS, .WMV, .FLV, .ogg)
Microsoft files
• Excel (.XLS and .XLSX)
• PowerPoint (.PPT and .PPTX)
• Word (.DOC and .DOCX)
• XML Paper Specification (.XPS)
Industry's Only 100% Digital Signage Design Satisfaction Guarantee
We guarantee you that your system's content, design, and layout will meet your exact expectations.
• No strings attached, no hidden costs, no additional charges for 'design time'.
• All requested features will be properly incorporated.
• Your branding requirements accurately executed.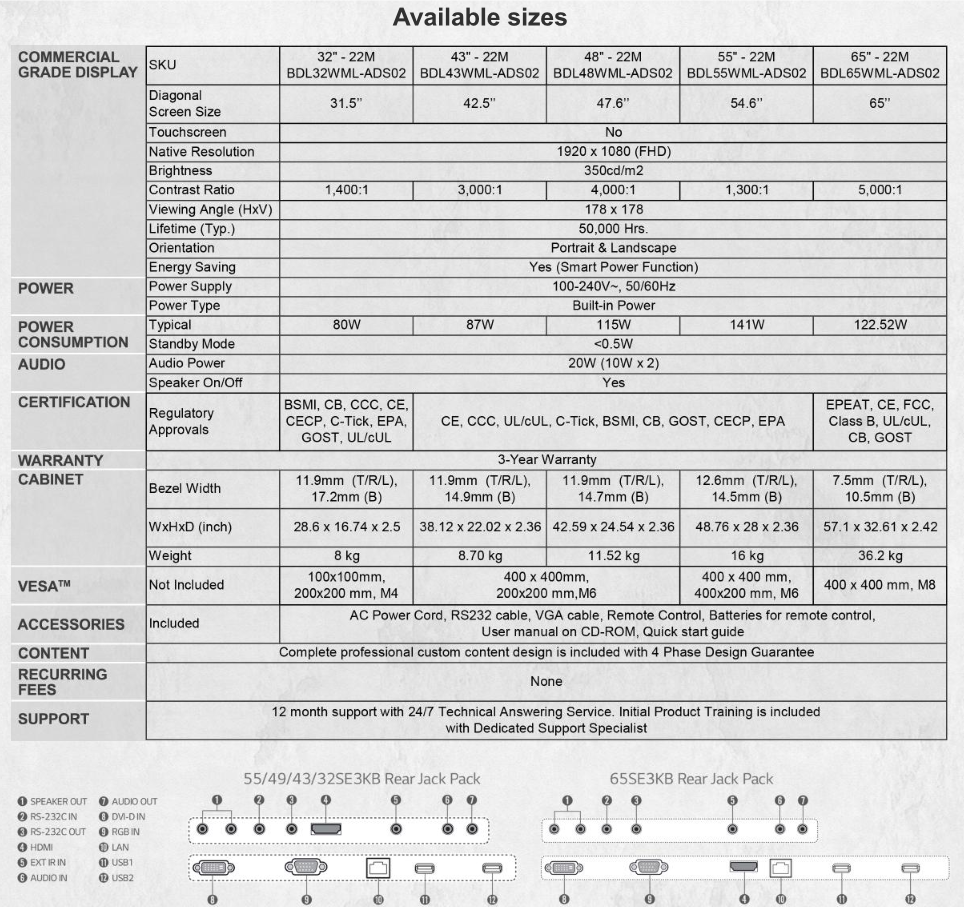 Request information today
"These are the most intuitive, logical, and well-designed solutions on the market today. We can easily manage all content, event updates, and live feeds."
-Doug T
"Your team went and above and beyond! The final product meet our exact requirements - a superb layout, beautiful graphics, and the software is so easy to use! Thank you"
- Natalie Z
"I could not believe all of these amazing features came built-in standard. I told them what I wanted, and they designed a beautiful easy to manage. What a great experience!"
- Kelly M
1. What is the average lead time once a Purchase Order is placed?
2-4 weeks. This includes custom content creation, software, set up of media player, and shipping.
2. What happens after I place my order?
We immediately begin a 4 Step Content Design Process. (See question 10 below for detail of process)
Durning each phase your involvement approval is required.
o You can view all content and submit feedback using our online content portal review.
o This leaves you in complete control and ensures the final product meets all expectations.
3. How easy is the system to set up and use?
Every AdSlide™ solution is user-friendly and non-technical.
• NO complicated technical or software set-up is required when installing the system.
• Before shipping your system we set-up, configure and test every component.
• When receiving the system, we will walk you through the set-up step by step.
• We also offer optional onsite installation services.
4. Will you train my staff and me?
• You will receive a dedicated support manager that will be there for you in every capacity.
• The support specialist will tailor all training to match your exact needs and technical background.
• When you receive the system, our team of experts will make sure the system is up and running.
• You can expect for the process and installation to take an average of 2-4 hours (per screen).
5. What type of technical support and customer service is included?
• From initial planning to post-deployment, our support service is 100% continuous.
• Our 24/7 answering service guarantees that you can reach someone.
• Live Specialists can provide service between 9:00 am to 5:00 pm CST
• You will also receive the direct email and phone number of a committed Support Specialist.
6. How easy is it for me to change my digital directory or menu board information?
• Very simple. Using Google Drive you can edit any text related information
• Example: names, suite numbers, food names, prices.
• All changes you make apply to the display within minutes.
7. Hidden Costs?
• None. We handle every project transparently by providing you with all available.
8. Is this system scalable?
9. What is the Cost of Management & Maintenance?
• We do not charge annual hosting or content management fees.
• Based on your request, we can add optional extended support packages.
10. What consists of the 4 Phase Design Process?
After we receive your order, we immediately begin working with you to create your digital signage content.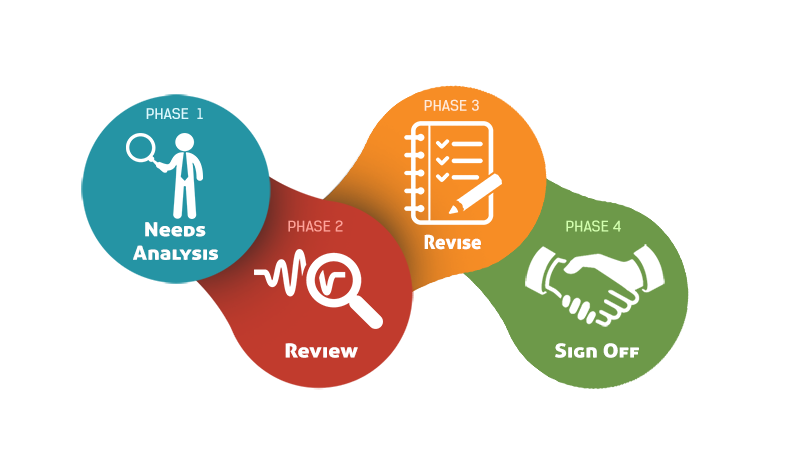 Phase 1: Needs Analysis
• We research your establishment to learn about your organization, products, & services.
• We then have an initial discovery call with you to identify clearly your objectives and needs.
• After the call, we draft a set of concept designs and send them to you for review and feedback.
• Upon receiving your response, a full-color mock-up is completed and sent to you for review.
Phase 2: Review
• Based on your feedback of the full-color mock up we make changes to the layout and its media.
• When completed, we will have a short review call to review final full-color mock-up.
• On the call, we will focus on how we can fine-tune the design, to exactly meet your needs.
Phase 3: Revise
• Improvements talked about during our Review Call are made and sent to you for approval.
• If you request changes, we continue making adjustments until the exact Look & Feel is reached.
Phase 4: Sign Off and Set-Up
• The final design is submitted for your approval.
• Once the final sign off occurs, we will configure and test every component of the system.
• When you receive the system, a specialist will contact you for Step By Step Kick Off call.
• On the call, we cover non-technical setup and make certain all of your questions are answered.