C-Series Interactive Kiosk
All-in-one Commercial Interactive Kiosk in Landscape Mode aka "Pulpit Style"
Available in 21.5", 32" and 43" configurations


This eye-catching touchscreen digital signage kiosk this unit offers ease of accessibility, sophisticated design style, and over 30+ touchscreen buttons and features to choose from.
Have questions? Give us a call 408-933-3300
Designed for elegance and engineered for durability, C Series kiosk brings together a refined profile with a rugged steel enclosure and top-shelf touch computing power to deliver the full range of self service applications. The C Series combines a commercial-grade touch with unparalleled reliability even under the demands of continuous, unattended public use.
The C Series features a 22, 32 or 43 inch capacitive touch screen, the same technology utilized in leading smart phones. Capacitive touch screens incorporate the best characteristics of competing technologies including high durability, excellent optical performance and unlimited multi touch. Combine this touch technology with the C Series' ultra-clear and bright High Definition display, and your content will never look or feel better.
Unlike a tablet, the C Series is designed for long term commercial use. C Series kiosk incorporates a wide range of features to maximize its longevity and keep costs low. No exposed wires, cables or ports. No attendant. Key locks for easy but secure computer access. You and your end-users can count on C Series to be there 24/7/365.
When placing your order simply let us know which features you would like and our graphics design team will creatively incorporate everything you need into the digital signs interface. You can select as many features as you'd like and you'll always receive the same flat-rate price from us. We do not bill by sets of features, by "slides" or design time.
What the combination of features would like to incorporate into the kiosks interface?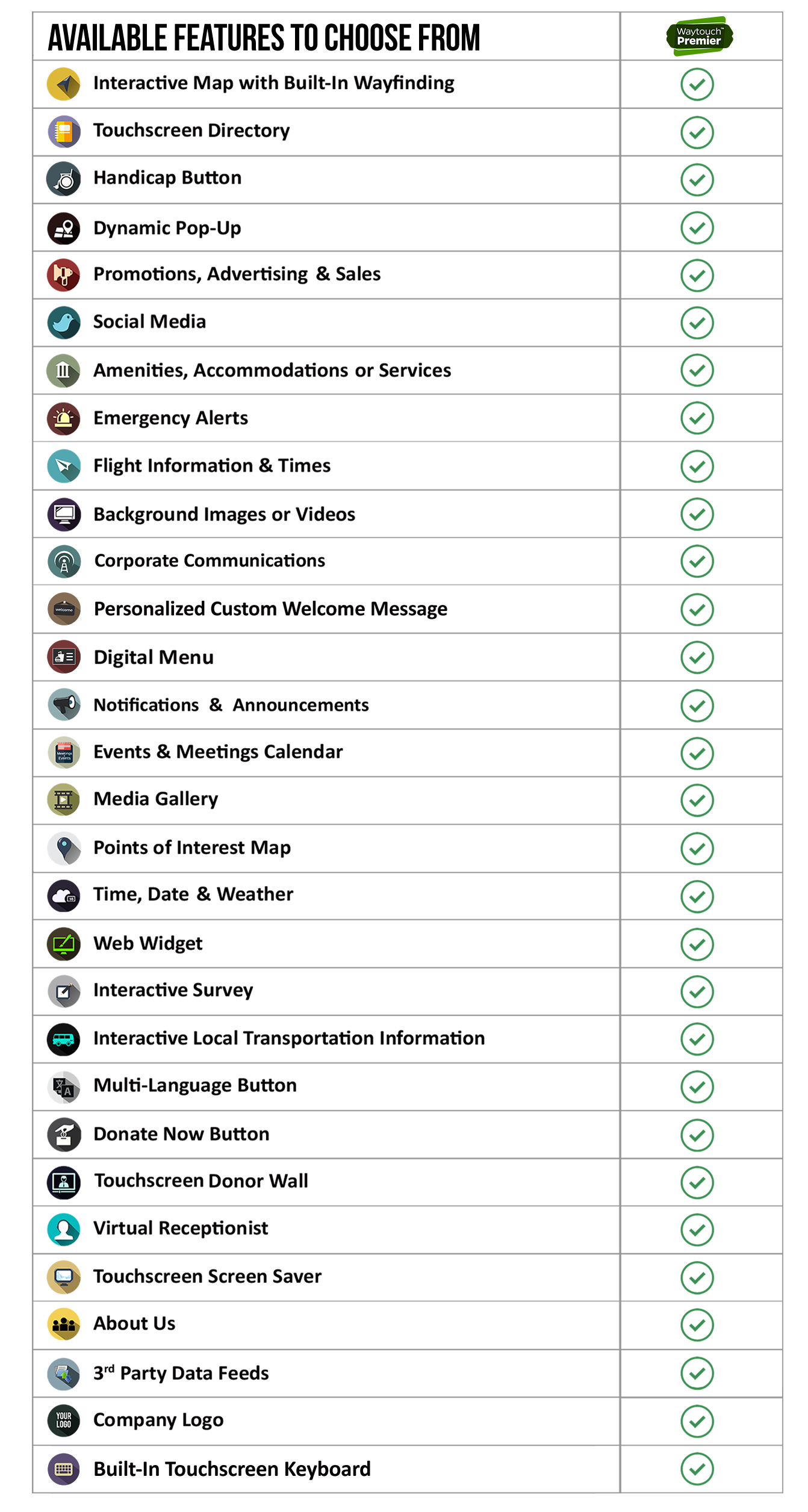 | | | | |
| --- | --- | --- | --- |
| Size | 22" | 43" | 55" |
| Panel model | 22  TFT   LED | 43inch  TFT   LED | 55inch TFT LED |
| Max Resolution | 1920x1080 | 1920x1080 | 1920 x 1080 |
| Aspect Ratio | 16:9 | 16:9 | 16:9 |
| Viewing Angle | 89/89/89/89 | 89/89/89/89 | 89/89/89/89 |
| Contrast Ratio | 50,000:1 | 50000:1 | 50000:1 |
| Brightness | 350cd/m | 400cd/m | 500cd/m |
Use Your iPhone To Update The Kiosks Content
This practical yet powerful solution enables you to efficiently update and manage all day to day digital messaging and media remotely from any device, anytime.
Every update you make will instantly be enhanced, adjusted, and fine-tuned by our software to match your contents precise theme. Text, images, videos, scrolling messages, menu prices, directory listing, event times, product descriptions, advertisements, welcome messages, and other forms of media.
• Make changes to content remotely from your iPhone, Android device, tablet, or computer.
• Every image and video auto re-sizes to fit the media zone just right.
• All text updates you input are auto-optimized to match the existing font size, color, and style.
• Changes you make to the content is saved then wirelessly pushed to the display within minutes.
• No annual software license costs or renewal fees for content management.
• Multi-User / Multi Admin control levels are available.
Industry's Only 100% Digital Signage Design Satisfaction Guarantee
We guarantee you that your system's content, design, and layout will meet your exact expectations.
• No strings attached, no hidden costs, no additional charges for 'design time'.
• All requested features will be properly incorporated.
• Your branding requirements accurately executed.