D-Series Interactive Kiosk
All-in-one Commercial Interactive Kiosk in Portrait Mode aka "Totem Style"
Available in 21.5", 43" and 55" configurations
This all-in-one commercial grade touchscreen kiosk boasts an ultra-small footprint and incredibly thin profile. It features a smooth, elegant design while providing the 'Wow Factor" needed in today's marketplace."
Have questions? Give us a call 408-933-3300
Sell. Inform. Experience. The D-Series kiosk is an exciting new breed of interactive digital display that provides a truly dramatic and compelling platform for displaying interactive content. The free standing D-Series features a 55 inch vandal resistant projected capacative touch screen and LCD mounted in portrait mode with full gesture recognition and swipes. The size, clarity and incredible responsiveness of the D-Series's touch LCD provides an exciting and easy way for the user to interact with the application. D-Series offers high impact at a low cost with a dramatic format that attracts and engages the user. On D-Series's touch LCD, pictures are almost life size, and text can be read from across the room. With its super responsive, multi-touch touch screen, the customer can use a whole hand, instead of just a fingertip, to interact with the application, taking interactive kiosks and digital advertising to the next level. Designed for hassle free 24/7 operation in public indoor environments, the D-Series features a slim profile and rugged enclosure. The black powder coated steel enclosure has no exposed cables, wires, or ports and includes audio. A key lock cabinet is discreetly located in the back of the unit to house a PC or media player.
When placing your order simply let us know which features you would like and our graphics design team will creatively incorporate everything you need into the digital signs interface. You can select as many features as you'd like and you'll always receive the same flat-rate price from us. We do not bill by sets of features, by "slides" or design time.
What the combination of features would like to incorporate into the kiosks interface?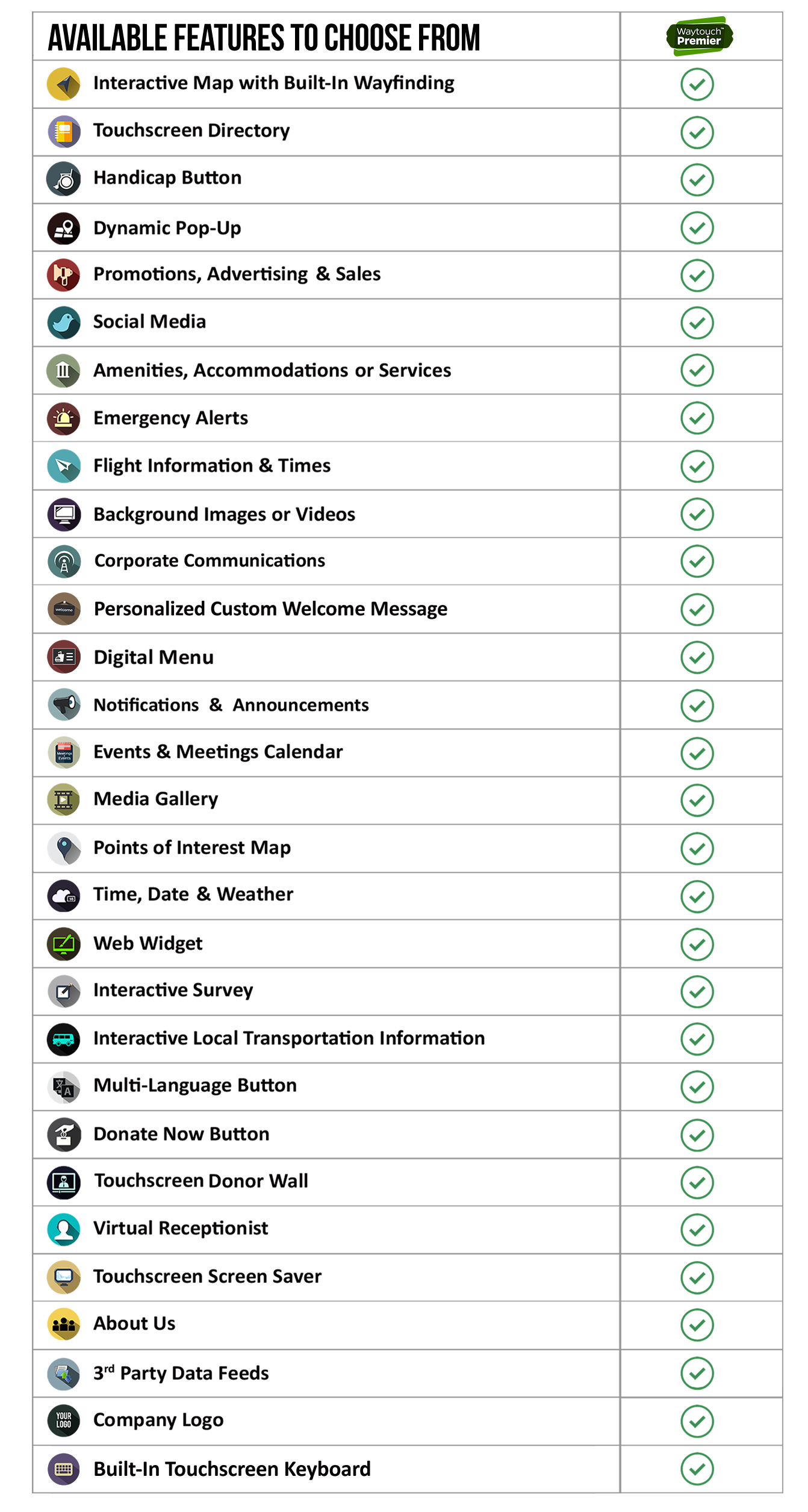 ● Large Format Interactive Digital Signage Kiosk (Portrait Orientation)
● Multi touch Optically Clear PCAP Touch Screen with Gesture Recognition & Swipes
● 55 Inch Energy Efficient LED LCD
○ Resolution: 16:9 1920 x 1080 x 16m Colors
○ Brightness: 400 Nits ○ Contrast: 1000:1
● Embedded 1080p Camera, Audio Amplifier & Stereo Speakers
● Vandal Resistant Tempered Glass Cover
● Customize with Peripherals (Pricing Upon Request)
○ Receipt Printer
○ Insert EMV Compliant Card Reader
● ADA Compliant
● Base Color: Black with Silver Trim (Custom Colors Available)
● Optional Custom Printed Vinyl Wrap
● One Year Onsite Warranty (2 & 3 Year Available)
Use Your iPhone To Update The Kiosks Content
This practical yet powerful solution enables you to efficiently update and manage all day to day digital messaging and media remotely from any device, anytime.
Every update you make will instantly be enhanced, adjusted, and fine-tuned by our software to match your contents precise theme. Text, images, videos, scrolling messages, menu prices, directory listing, event times, product descriptions, advertisements, welcome messages, and other forms of media.
• Make changes to content remotely from your iPhone, Android device, tablet, or computer.
• Every image and video auto re-sizes to fit the media zone just right.
• All text updates you input are auto-optimized to match the existing font size, color, and style.
• Changes you make to the content is saved then wirelessly pushed to the display within minutes.
• No annual software license costs or renewal fees for content management.
• Multi-User / Multi Admin control levels are available.
Industry's Only 100% Digital Signage Design Satisfaction Guarantee
We guarantee you that your system's content, design, and layout will meet your exact expectations.
• No strings attached, no hidden costs, no additional charges for 'design time'.
• All requested features will be properly incorporated.
• Your branding requirements accurately executed.