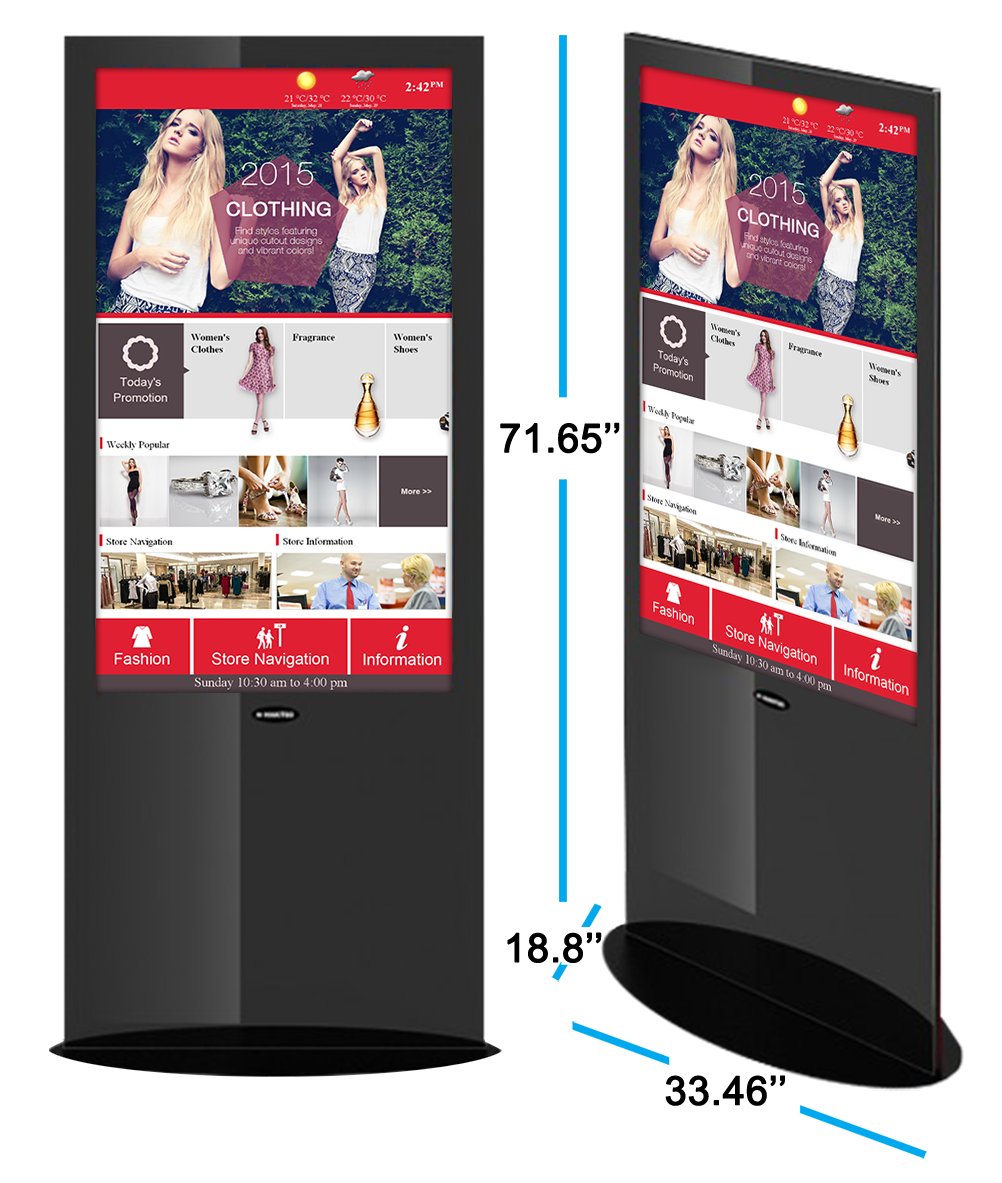 58" MonteCarlo Interactive Kiosk
This all-in-one commercial grade touchscreen kiosk boasts an ultra-small footprint and incredibly thin profile. It features a smooth, elegant design that offers the reliability needed in today's marketplace.
A reliable

solution for comprehensive facility wayfinding.

Custom designed with the exact touchscreen features you need.

Accurate

turn-by-turn directions to any destination with 3D map.

Easy

content updates and management using your iPhone!

Only available here

custom built, tested, and turnkey.

Ships ready to use.
This turnkey touchscreen kiosk includes digital signage software, custom content creation, and cloud-based content management software.
Popular Uses:
Touchscreen Digital Directory

Pinch & Zoom 3D Map Wayfinding

Arena, Shopping Center or Convention Center

Retail Self Service or Check In Kiosk
Professionally Designed & Built
The MonteCarlo features high life-cycle, commercial grade components, tightly integrated hardware and software, and highly responsive user interaction, that is designed for 24/7 interaction.
• Durable tempered glass..
• 10 Point Capacitive Touchscreen.
• Finger print resistant coating.
• Aircraft Grade Aluminum Kiosk Enclosure.
• ATA shipping case included.
• Advanced airflow venting
• Built-In Media player, WiFi, and digital signage software.
• All kiosks are shipped configured for immediate use.
• No required recurring software fees or maintenance packages.

Truly Turnkey
Never worry about content, digital signage software or graphic design again! We will custom tailor each kiosks software and its content to fit your establishment's exact objectives and needs.
• You will receive one flat cost that includes everything.
• Hardware, kiosk, software, & custom content creation is included.
• All kiosks are shipped configured for immediate use.
• All content changes can be done using your iPhone, laptop, or computer.
• No required recurring software fees, maintenance packages, or license costs

TIMER ON / OFF
There are many advantages to using the TIMER function. You save on electricity costs and thus earn double both economically and environmentally. In addition, it extends the product's life. The advanced TIMER in MonteCarlo kiosk can be set with 5 different on / off settings to efficiently use the screen to maximum. The internal battery eliminates the need to add up the timer settings even if the power is disconnected.
SMART HDMI
This function allows the MonteCarlo kiosk to automatically start when the HDMI signal is received and turns off when the signal is gone. This feature is very useful when you connect an HDMI source to the screen.
What's Included?
You will receive an out-of-the-box ready to use kiosk. It will ship preloaded with your content software, and media player. Tell us the features you need then we will custom develop, test and set up everything for you.
• Commercial Grade MonteCarlo Kiosk
• Touchscreen Digital Signage Software
• All-Inclusive Creative Design & Content Creation
• Industry's Only Digital Signage Design Guarantee
• Digital Signage Media Player w/ HDMI Cable
• Cloud-Based Digital Signage Content Management (WI-FI)
• Full Training, Set-Up & Configuration
• 12 Month Technical Support
• Live Dedicated Support Specialist
Product Instructions:
It is 4 Easy Steps.
1. Place order.
2. We will then setup everything for you and ship you a total solution.
3. Receive and unpack Kiosk.
4. Turn it on and you are done! The software with content will automatically load.
When placing your order simply let us know which features you would like and our graphics design team will creatively incorporate everything you need into the digital signs interface. You can select as many features as you'd like and you'll always receive the same flat-rate price from us. We do not bill by sets of features, by "slides" or design time.
What the combination of features would like to incorporate into the kiosks interface?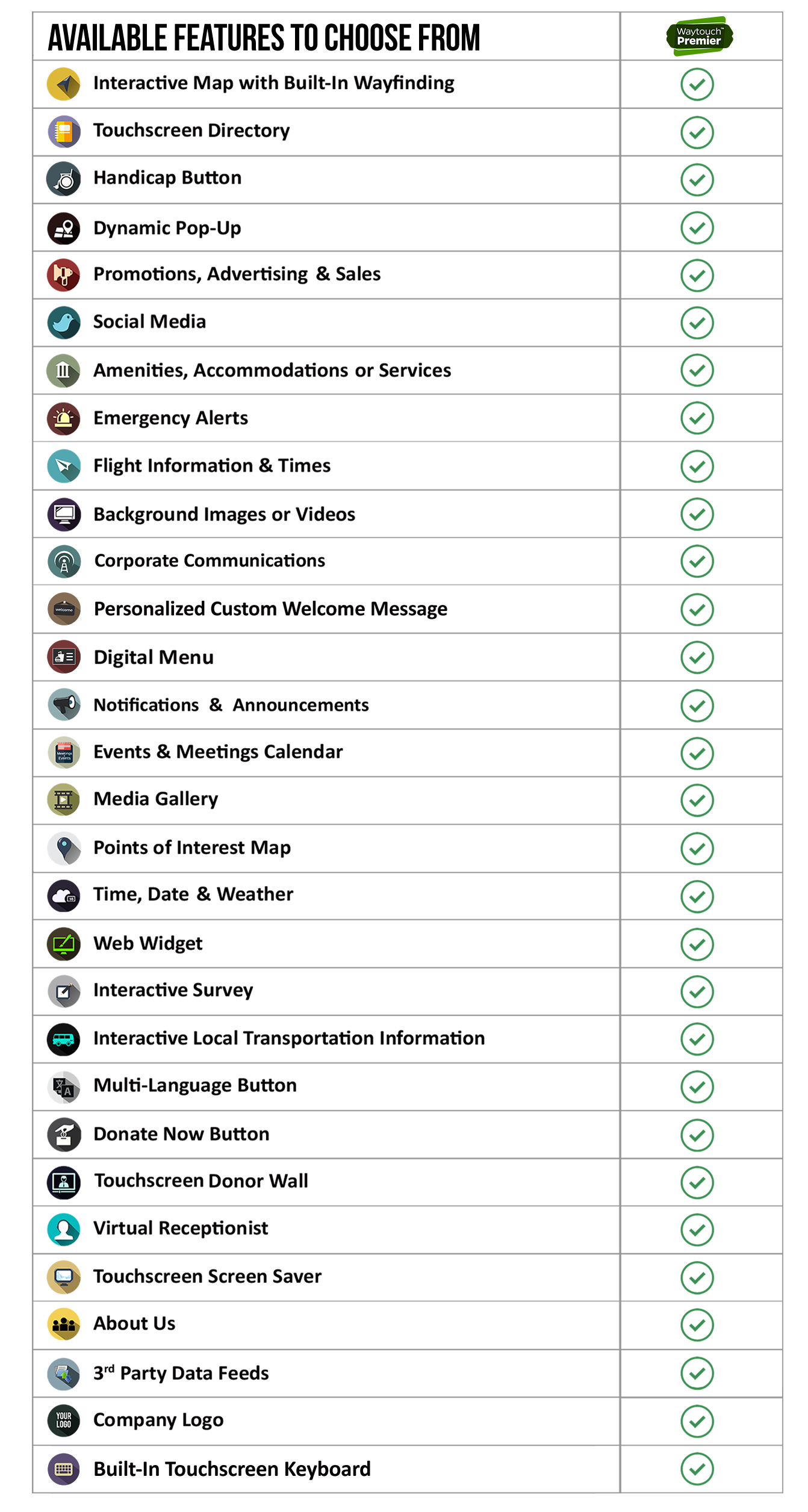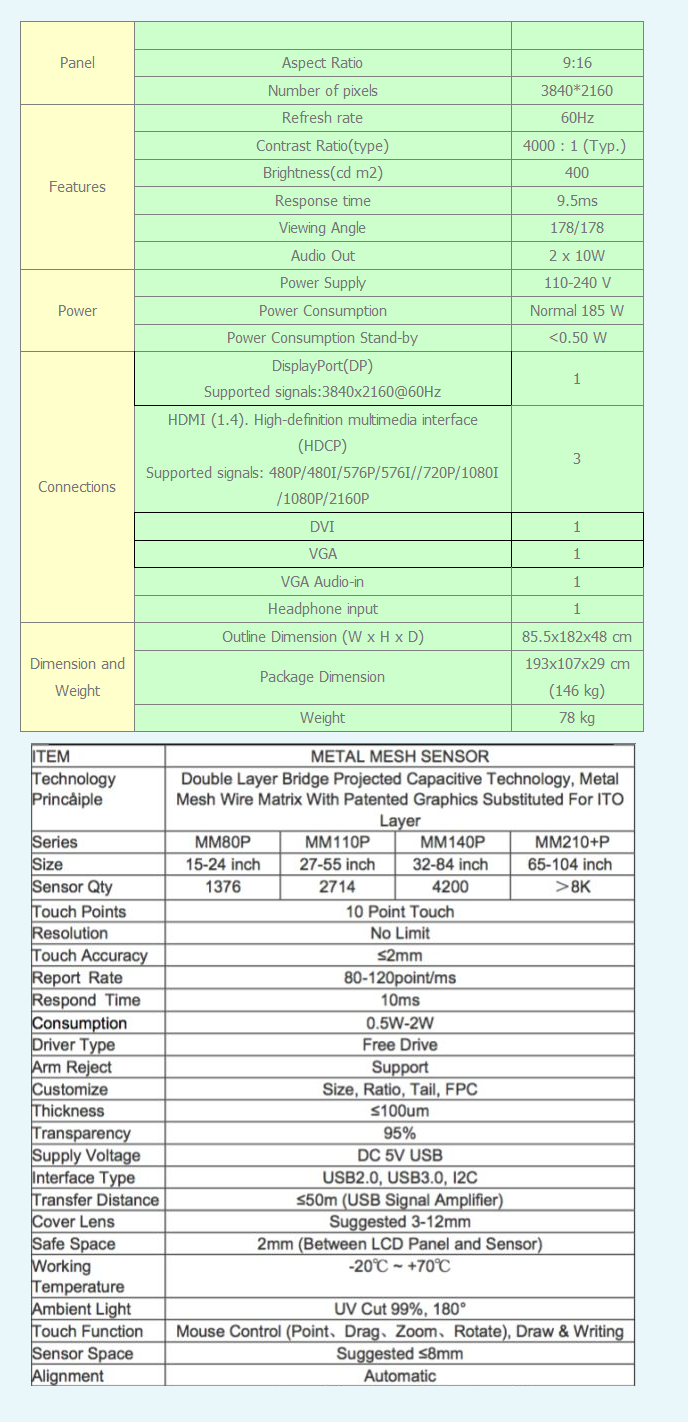 Use Your iPhone To Update The Kiosks Content
This practical yet powerful solution enables you to efficiently update and manage all day to day digital messaging and media remotely from any device, anytime.
Every update you make will instantly be enhanced, adjusted, and fine-tuned by our software to match your contents precise theme. Text, images, videos, scrolling messages, menu prices, directory listing, event times, product descriptions, advertisements, welcome messages, and other forms of media.
• Make changes to content remotely from your iPhone, Android device, tablet, or computer.
• Every image and video auto re-sizes to fit the media zone just right.
• All text updates you input are auto-optimized to match the existing font size, color, and style.
• Changes you make to the content is saved then wirelessly pushed to the display within minutes.
• No annual software license costs or renewal fees for content management.
• Multi-User / Multi Admin control levels are available.
Industry's Only 100% Digital Signage Design Satisfaction Guarantee
We guarantee you that your system's content, design, and layout will meet your exact expectations.
• No strings attached, no hidden costs, no additional charges for 'design time'.
• All requested features will be properly incorporated.
• Your branding requirements accurately executed.