AdSlide™ Digital Directory
The Smart solution for efficient management of directory listings
Improves

ability for visitors to find quickly and navigate to locations

Amplifies

your organization's branding and public perception

Streamlines

ability to share your property leasing information

Easy

update directory listing and content using your iPhone!

Available Sizes: 32", 43", 48", 55", and 65"
If you are looking for a digital directory, that is highly effective, easy to manage, and includes all of the bells and whistles then you'll prefer using this professionally designed system.
This all-in-one digital directory system is a custom built information rich solution intended to improve your patron's experience while expanding the ability for you to manage the day to day property communications easily.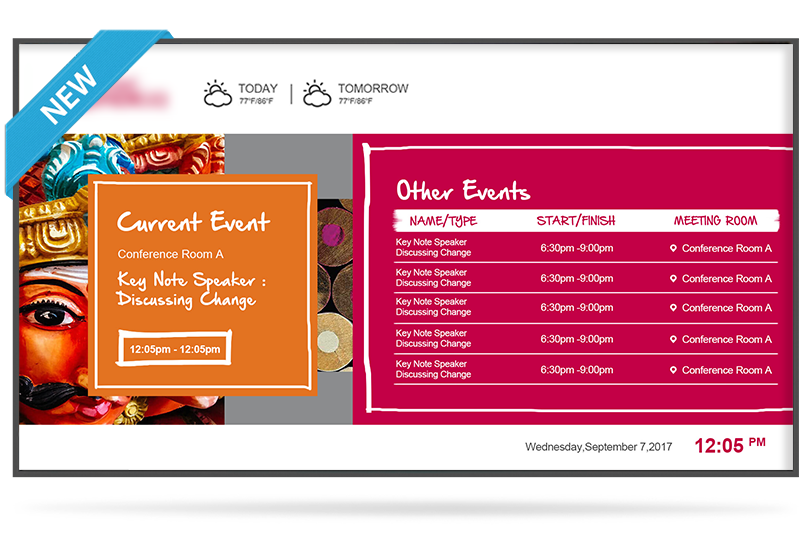 You can choose from over 17+ immersive features plus an unlimited combination of distinctive digital directory features, popular selections include:
• Your properties directory with suite numbers
• Management and leasing information
• Facility maps with 'You Are" Here.'
• Custom Welcome Messages
• Scrolling News Tickers
• Company Communications
• Events and Meeting Calendar
What's Included?
You will receive an out-of-the-box ready to use solution. It ships preloaded with your custom digital directory content, software, and media player. Tell us the features you need then we'll custom develop, test and set up everything for you. You will not have to spend time editing or 'customizing' templates, do graphic design or learn about complicated digital signage software.
When completed we'll ship you a ready to use system that simply works:
• AdSlide™ Digital Directory Software
• All-Inclusive Creative Design & Content Creation
• Industry's Only Digital Signage Design Guarantee
• Digital Signage Media Player w/ HDMI Cable
• Cloud-Based Digital Signage Content Management (WI-FI)
• Full Training, Set-Up & Configuration
• 12 Month Support w/ Live Dedicated Support Specialist
• No recurring annual software renewals
Product Instructions:
It is 4 Easy Steps.
1. Place order
2. We'll then setup everything for you and ship you a total solution
3. Connect the AdSlide™ Media Player to your display or kiosk and WI-FI
4. Turn it on and you are done! The software with content will automatically load
Other available digital directory options include:
Touch screen digital directory
Touch screen digital directory with wayfinding maps
1. Leasing and PropertyInformation
Promote available property vacancies, add property descriptions, and
further information about your company can be listed. Leasing and
building maintenance information can also be listed.

2. Media gallery
PowerPoint files, JPEG, Word documents are all file formats that can
be added to the media gallery.
3. Multi-floor directory listings
The directory listing can feature destination name, suite, images,
and contact information.
4. News, sports, and weather
Favorite tickers: both local and national news, weather alerts, and
breaking Wall Street related stories
5. Company Branding
At the time of purchase provide us your logo, tenant spreadsheet, and
a list of top 5 desired items you want the AdSlide directory to
include.
1. Leasing and Property Information
Promote available property vacancies, add property descriptions, and
further information about your company can be listed. Leasing and
building maintenance information can also be listed.

2. Media gallery
PowerPoint files, JPEG, Word documents are all file formats that can
be added to the media gallery.
3. Multi-floor directory listings
The directory listing can feature destination name, suite, images,
and contact information.
4. News, sports, and weather
Favorite tickers: both local and national news, weather alerts, and
breaking Wall Street related stories
5. Company Branding
At the time of purchase provide us your logo, tenant spreadsheet, and
a list of top 5 desired items you want the AdSlide directory to
include.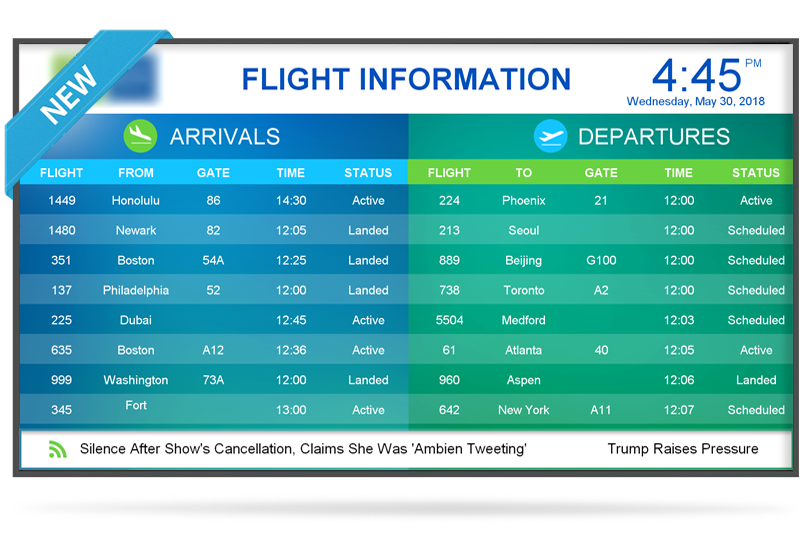 The AdSlide package is turnkey digital signage directory solution that requires no complicated technical set-up, no graphic design, no required annual software fees, no extra annual charges for weather or traffic feeds, and ships to out-of-the-box ready to use.
Raising the industry standard
It is a fact. Having to change directory strips is expensive and time-consuming. It does not have to be.
A new kind of directory
Using the AdSlide Digital Directory system you can now improve the ability to remotely update directory listings, broadcast customized company messages and more.
10 ways you can use this system
1. Improve the way you promote current or upcoming vacancies
2. Welcome important guests with custom messages
3. Better share corporate news and bulletins
4. Display advertisements
5. Daily weather forecast
6. Ensure brand consistency and compliance across multiple locations
7. Display your facilities services and amenities
8. Alert visitors of live emergency local news
9. Share local area traffic reports
10 . Significantly improve brand identity and public perception
Superior flexibility
Included with the AdSlide Digital Directory are over 20+ features you can choose from to build into the digital directories content interface. Popular options include:
• Full directory listings
• Leasing information
• Property news
• 'You Are" Here' map
• Images gallery
• Scrolling headline news
• Announcements
• Local amenities
• Live public transportation info
• QR Codes
• Advertisements
• Stock tickers
• Social media feeds
• Events and meeting
Self-operational
Settings can be applied for pre-scheduled automatic power ON / OFF.
Every time the AdSlide digital directory turns on the software and content automatically loads.
Quality throughout
When placing your order simply let our design team know what you would like the directory content to consist of. We will then create all of the content, graphics, and set-up everything for you. The final product you receive will receive will be plug and play ready to use!

A good digital directory system is practical and easy to use . . .
When it comes time to making changes to a directory listing, editing an announcement, or changing the content with in a media zone nobody wants to think twice about how it is done, watch training videos, or spend hours trying to create new content
For users with little or no graphic design capabilities
This system is perfect for receptionists, front desk employees, property managers, and any other non-technical individual. With the AdSlide digital directory system users can master editing, updating and managing content within 15 minutes.
- Easily change directory listings, suite numbers, names and other details
- Edit all text and messages
- Upload and change images
- Create welcome messages and other daily notifications
- Update, add or edit daily event and meeting schedules

Three easy steps to change the digital directories content
When creating the digital directory content, we will set-up the Google account for you. You will use this account to make changes to the directories information and listing. Your username and password credentials will be provided to you after the system is installed.
1. Go to Google Drive
2. Enter login credentials
3. Make changes to content

Discover how
Our built-in integrations make changing the digital directories content easy
We will sync the directory listings, text, images, and other media zones with Google Drive and our proprietary digital signage software. This advanced integration will make it easy for you!

If you can type an email, you can use this system
Our software will do the technical stuff for you
Once you have made your update in the Google Drive Spreadsheet, our software will instantly do the rest. Let me explain.
- Our software will auto resize every image you upload, so it properly fits the media zone you want the image featured.
- All text updates you make are auto-optimized to match the font size, color, and style of content.
- Every update you make is saved and wirelessly sent to the display within 60 seconds.
Yes, our digital directory software supports the file formats you know how to use
• Audio formats (.MP3)
• Image files (.JPEG, .PNG)
• Text files (.TXT)
• Video files (.MP4)
• Excel (.XLS and .XLSX)
• PowerPoint (.PPT and .PPTX)
• Word (.DOC and .DOCX)
• XML feeds (.XPS)
We also support
Live RSS news feeds, weather forecasts, local time and date, streaming URL based cable feeds, scrolling tickers, local area traffic reports and maps.
FAQ
1. Google Drive is mentioned as a content sync location. Is this an account that our organization would need to create or is this accessing a vendor's account?
We will create the Google account for end-user and sync it with our software.
When the display is installed, we will provide Google information plus train end-user how to use.
2. Do the clients call to anything else outside of our firewall besides Google Drive?
Only if end-user request stream of information that requires internet connections.
An example of streams: weather forecast and daily news feeds.

3. For Network Load, is the content just pulled from the Google Drive location one time, cached locally, then stream it?
Correct all content is locally cached on the media player.
4. Is it reloaded on a regular interval, if so what is the frequency?
Content update interval time can be set per customer request.
5. What is the maximum file size that is supported?
Documents: Up to 1.02 million characters. If you convert a text document to Google Docs format, it can be up to 50 MB. Spreadsheets: Up to 2 million cells for spreadsheets that are created in or converted to Google Sheets. Presentations: Up to 100 MB for presentations converted to Google Slides.
Industry's Only 100% Digital Signage Design Satisfaction Guarantee
We guarantee you that your system's content, design, and layout will meet your exact expectations.
• No strings attached, no hidden costs, no additional charges for 'design time'.
• All requested features will be properly incorporated.
• Your branding requirements accurately executed.
How we design a digital directory system
When we are working with you to create your digital directory, there are multiple design suggestions that we will review with you. We have pulled together some design principles that will help guide you through making the right decisions. These suggestions will assist you in making sure that your digital directory meets the needs of your customers and visitors.
1. Selecting the right orientation
There are two orientations available; portrait, and landscape. The orientation of the directory will depend on the total number of listings you have, the size of the display, and how much space you have to mount the display. You may also want to consider whether you will be placing multiple displays next to one another.
2. Make it easy to read
It might seem like a given, but legibility is the most important aspect of your digital directory. It can be challenging in the design process, but the directory font sizes must be large enough to be recognizable from a distance.
For individuals standing just a few feet away, it is important that the size and font selections be appropriate. Sans Serif font and depend on the size of the display, 20-30 point font is recommended. Take into consideration that some individuals may not have the same eyesight capabilities as you do.
3. Well-balanced
When it comes to the visual layout of the directory listings, we recommended the proper balance of white space. This will help the directory not look overcrowded. It is also recommended that the use of bold font, images, varying colors, and sizes to be limited to just the sections that you desire to have emphasized to be called out over the other sections within the directory. If the listings do not fill up the entire screen, it is okay because it will be beneficial to the reader.
4. Use of images
When it comes to utilizing directory images, it will be important to ensure they are the appropriate size, eye-catching, and high-resolution. One image that you might consider using is a map layout of your building. A map tremendously helps visitors with a visual representation of the building, where they are, and where they need to go. You can also the choice to add individual images of tenants, example: an image of a doctor from one of the practices listed in the directory.
Another option is adding a short description of the tenant and or contact information. We will make sure to leave adequate white space between images so that there is a visual gap between the text and the image itself. When selecting images, please make sure that they are images that your company has the legal rights to leverage.
5. Branding
The theme for the digital directory should align with the same theme that is being leveraged on all of your promotion materials and website. This should include your organization fonts styles, logo and same color palates. If there no specific company branding that the digital directory is supporting, then we can apply more freedom the overall design them. If multiple businesses are listing, we always suggest a professional layout and use more generic colors.
6. Organizing the digital directories listings
Some suggestions include having the directory listings organized by a particular category, suite number, per floor, or alphabetized format. If you choose the category approach, we recommend alphabetizing each listing within each category. The categories should not contain the same font size and color as the sub-listings. Using alternate font styles will assist with the easiness to the eye.
7. Keep it simple
Have a design strategy will make sure that you do not go astray from the overall goal with this digital directory. While there are several possibilities, the design should be aligned to meet your overall objectives. In other words, don't get so creative that people have no idea that your digital directory is, in fact, a digital directory. While there are a lot of design options available, it will be helpful to your building visitors if there is some level of consistency on the overall layout.
Follow the guide below to help select the proper size display:
- 32": can fit up-to 5 floors / up-to 25 tenants
- 43": can fit up-to 7 floors / up-to 40 tenants
- 48": can fit up-to 10 floors / up-to 60 tenants
- 55": can fit up-to 15 floors / up-to 80 tenants
- 65": can fit up-to 18 floors / up-to 100 tenants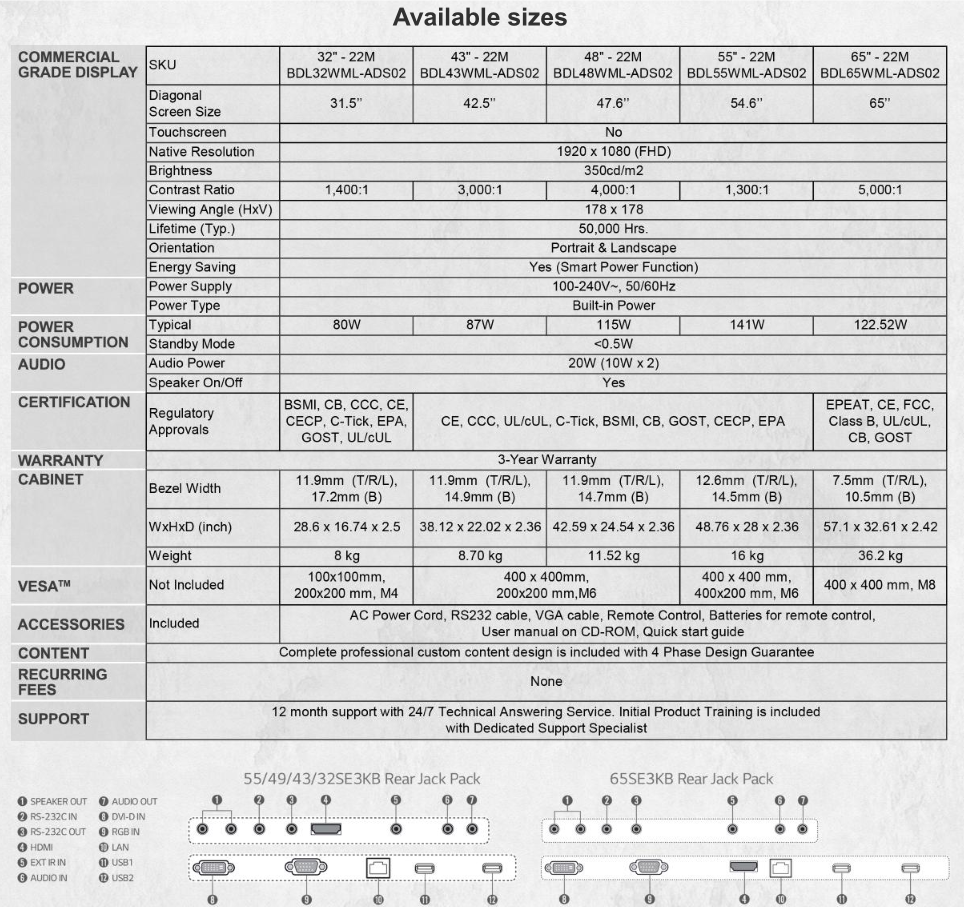 Request information today
"These are the most intuitive, logical, and well-designed solutions on the market today.  We can easily manage all content, event updates, and live feeds."
 -Doug T
 "Your team went and above and beyond! The final product meet our exact  requirements - a superb layout, beautiful graphics, and the software is so easy to use! Thank you"
 - Natalie Z
 "I could not believe all of these amazing features came built-in standard. I told them what I wanted, and they designed a beautiful easy to manage. What a great experience!"
 - Kelly M
1. What is the average lead time once a Purchase Order is placed?
2-4 weeks. This includes custom content creation, software, set up of media player, and shipping.
2. What happens after I place my order?
We immediately begin a 4 Step Content Design Process. (See question 10 below for detail of process)
Durning each phase your involvement approval is required.
o You can view all content and submit feedback using our online content portal review.
o This leaves you in complete control and ensures the final product meets all expectations.
3. How easy is the system to set up and use?
Every AdSlide™ solution is user-friendly and non-technical.
• NO complicated technical or software set-up is required when installing the system.
• Before shipping your system we set-up, configure and test every component.
• When receiving the system, we will walk you through the set-up step by step.
• We also offer optional onsite installation services.
4. Will you train my staff and me?
• You will receive a dedicated support manager that will be there for you in every capacity.
• The support specialist will tailor all training to match your exact needs and technical background.
• When you receive the system, our team of experts will make sure the system is up and running.
• You can expect for the process and installation to take an average of 2-4 hours (per screen).
5. What type of technical support and customer service is included?
• From initial planning to post-deployment, our support service is 100% continuous.
• Our 24/7 answering service guarantees that you can reach someone.
• Live Specialists can provide service between 9:00 am to 5:00 pm CST
• You will also receive the direct email and phone number of a committed Support Specialist.
6. How easy is it for me to change my digital directory or menu board information?
• Very simple. Using Google Drive you can edit any text related information
• Example: names, suite numbers, food names, prices.
• All changes you make apply to the display within minutes.
7. Hidden Costs?
• None. We handle every project transparently by providing you with all available.
8. Is this system scalable?
9. What is the Cost of Management & Maintenance?
• We do not charge annual hosting or content management fees.
• Based on your request, we can add optional extended support packages.
10. What consists of the 4 Phase Design Process?
After we receive your order, we immediately begin working with you to create your digital signage content.
Phase 1: Needs Analysis
• We research your establishment to learn about your organization, products, & services.
• We then have an initial discovery call with you to identify clearly your objectives and needs.
• After the call, we draft a set of concept designs and send them to you for review and feedback.
• Upon receiving your response, a full-color mock-up is completed and sent to you for review.
Phase 2: Review
• Based on your feedback of the full-color mock up we make changes to the layout and its media.
• When completed, we will have a short review call to review final full-color mock-up.
• On the call, we will focus on how we can fine-tune the design, to exactly meet your needs.
Phase 3: Revise
• Improvements talked about during our Review Call are made and sent to you for approval.
• If you request changes, we continue making adjustments until the exact Look & Feel is reached.
Phase 4: Sign Off and Set-Up
• The final design is submitted for your approval.
• Once the final sign off occurs, we will configure and test every component of the system.
• When you receive the system, a specialist will contact you for Step By Step Kick Off call.
• On the call, we cover non-technical setup and make certain all of your questions are answered.