Waytouch Premier™ Wayfinding Touch Screen Digital Signage

The most complete touch screen digital signage wayfinding solutions available
Flexible

and custom designed with the touch screen features you need

Accurate

turn-by-turn directions to any destination with 3D maps

Easy

content updates and management using your iPhone

Only available here

custom built, tested, and turnkey

Available Sizes: 32", 43", 48", 55", 65"
Watch Live Example Demo Video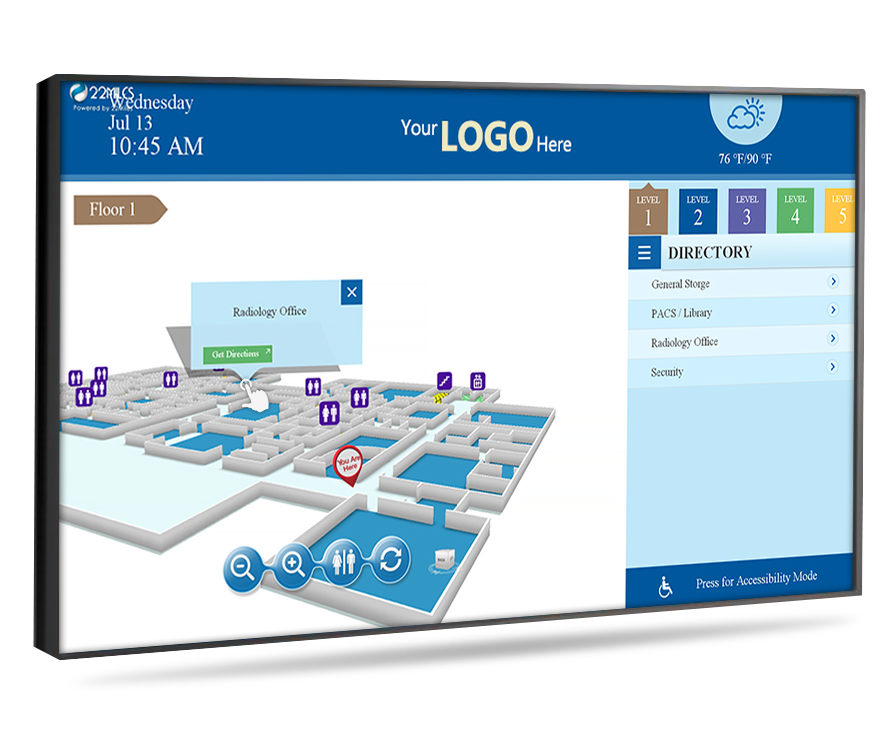 When patrons enter your facility you want to make an immediate positive impression. By providing immediate access to on-demand information, directory listing and wayfinding directions you can dramatically improve experiences.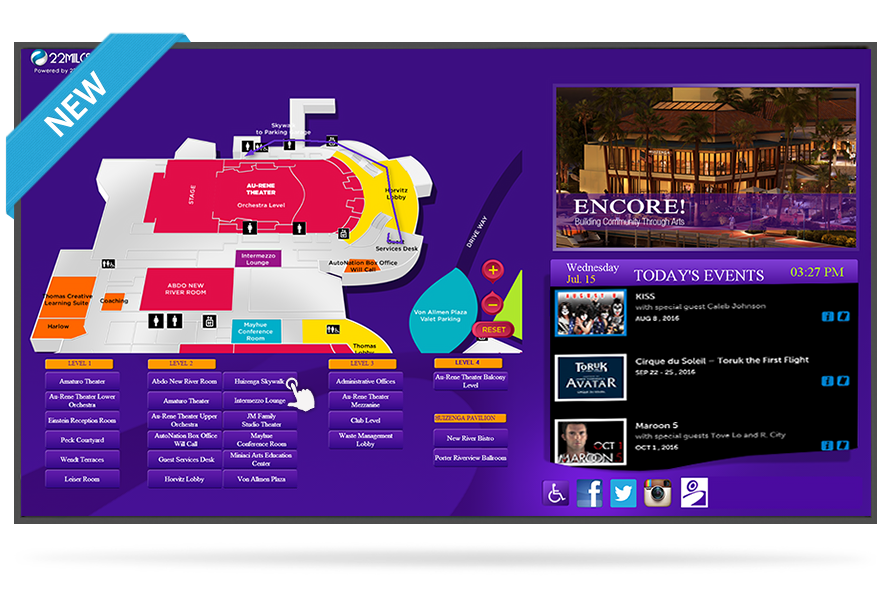 Wayfinding Digital Signage
Use this touch screen wayfinding digital signage solution to help your visitors easily navigate your building. The Waytouch Premier™ is a state-of-the-art digital signage wayfinding solution. It's interactive wayfinding maps provide turn-by-turn directions and visual aid to help visitors locate meetings, events, promotions, business, or any other destination within your facility.
• Touch screen directory connected to map with directions
• Built-In keyboard for quick and easy destination is searching
• Directions automatically are generated once a destination is selected
• 'You Here Icon' map icon with turn by turn directional arrows
• All directions are based on shortest path & ease of accessibility (Smart Pathway Algorithm)
• Directions can be chosen to be sent to a mobile device via text message or email
• Multi-language support with automatic language translator
• Touchscreen content auto-adjusts to meet ADA Requirements
Touch Screen Wayfinding Directory
The Waytouch Premier™ enables user to browse quickly through different pages, buttons and areas of informative content and media. This freedom creates remarkable customized user experiences.
• Incorporate interactive surveys to gain feedback
• Add FAQ button with common customer questions
• Spotlight interactive products gallery (images and videos)
• Feature local points of interest map with area attractions and restaurants
• Integrate your loyalty or rewards program
• Multi-language support with automatic language translator
• Touchscreen content auto-adjusts to meet ADA Requirements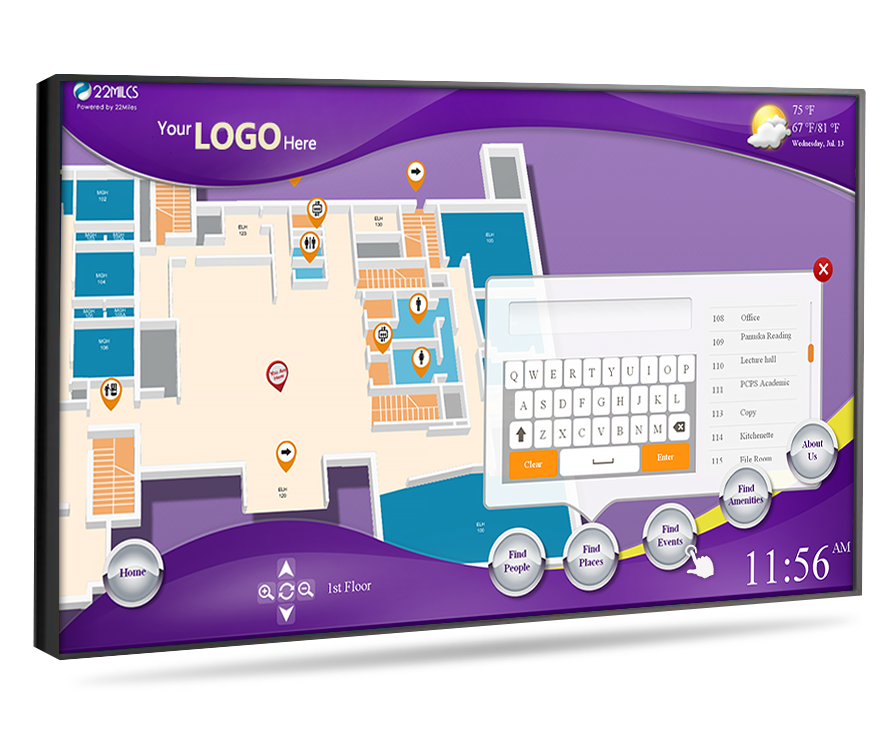 What's Included?
You will receive an out-of-the-box ready to use digital signage wayfinding solution. It will ship preloaded with your facility map with directions, custom content, software, and media player. Tell us the features you need then we will custom develop, test and set up everything for you.
When completed we will ship you a ready to use system that simply works:
• Waytouch Premier™ Wayfinding Touch Screen Digital Signage Software
• All-Inclusive Creative Design & Content Creation
• Industry's Only Digital Signage Design Guarantee
• 1 Floor 3D Wayfinding Map with up to 50 Destination Point Directions
• Digital Signage Media Player w/ HDMI Cable
• Cloud-Based Digital Signage Content Management (WI-FI)
• Full Training, Set-Up & Configuration
• 12 Month Technical Support
• Live Dedicated Support Specialist
*Note: additional per floor wayfinding maps and destination points can be purchased separately.
Product Instructions:
It is 4 Easy Steps.
1. Place order.
2. We will then setup everything for you and ship you a total wayfinding digital signage solution.
3. Connect the Waytouch Premier™ Media Player to your display or kiosk and WI-FI.
4. Turn it on and you are done! The software with content will automatically load.
Learn more about wayfinding digital signage:
What Are Digital Signage Wayfinding Kiosks?
6 Signs of Good Digital Signage Wayfinding
The Dummies' Guide to Interior Wayfinding Digital Signage
Creating An Effective Digital Signage Wayfinding Solution
Touch Screen Lobby Digital Directories
Standard Non Touch Screen Digital Directory
View All Available Digital Sign Directory Systems
Pinch and Zoom 3D Map Views
Enhanced 2.5D Map Views
Standard 2D Maps
Local Area Attractions Map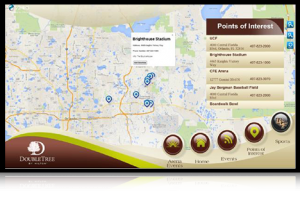 In today's modern age, things are moving faster and faster by the day. It is becoming ever more challenging to connect better with employees and guests visiting your building.
The need for an engaging multimedia communications platform that enables for better communications, better visitor engagements, allows for real-time message updates, and improved facility wayfinding is crucial.
"Going paperless"
It is cutting edge and new. Loaded with useful widgets and features the Waytouch Premier is a total wayfinding digital signage solution that improves communications while adding tremendous convenience to visitors. Using this comprehensive touch screen system you can beautifully display your companies directory, building a map, meetings calendar, corporate news, HR bulletins, and other relevant notices.
Pin point mapping
By utilizing the Waytouch Premiers built-in Smart Pathway algorithm you will be able to easily relieve directional frustration of visitors, guests, and employees. The Waytouch Premier comes with an easy to use Smart Search touch screen directory that is connected to a convenient Map It now button that when selected instantaneously generates a description of the destination and turn-by-turn directions:
1. Listing of scheduled events, images, and additional information can be featured in the destinations description
2. A final destination 360 degree image panorama or video can also be added
3. All destination directions can consist of animated directional arrows, lines or trail
4. All directions comprise of shortest path and ease of accessibility
Event wayfinding
Integrate your facility calendar of events, meeting, and classes with the map to improve wayfinding.

Interactive points of interest map
Make it easier for guests to search for, find and receive real-time directions and information to local area businesses.

Includes map design and set-up
To create a map all that we need from you is a list of destinations and scanned in image or CAD drawing of your facility map. Our design team will handle the rest!
Out-of-the-box ready to use
Our design team will custom create all of the graphics, program the touch screen buttons, design your desired, layout, and incorporate all of the feature you need into the content. All of the content will be preconfigured with our software, preloaded onto the media player, and ships ready to use!
When placing your order simply let us know which features you would like and our graphics design team will creatively incorporate everything you need into the digital signs interface. Remember, you can select as many features as you'd like and you'll always receive the same flat-rate price from us. We do not bill by sets of features, by "slides" or design time.
What the combination of features would like to incorporate into the displays interface?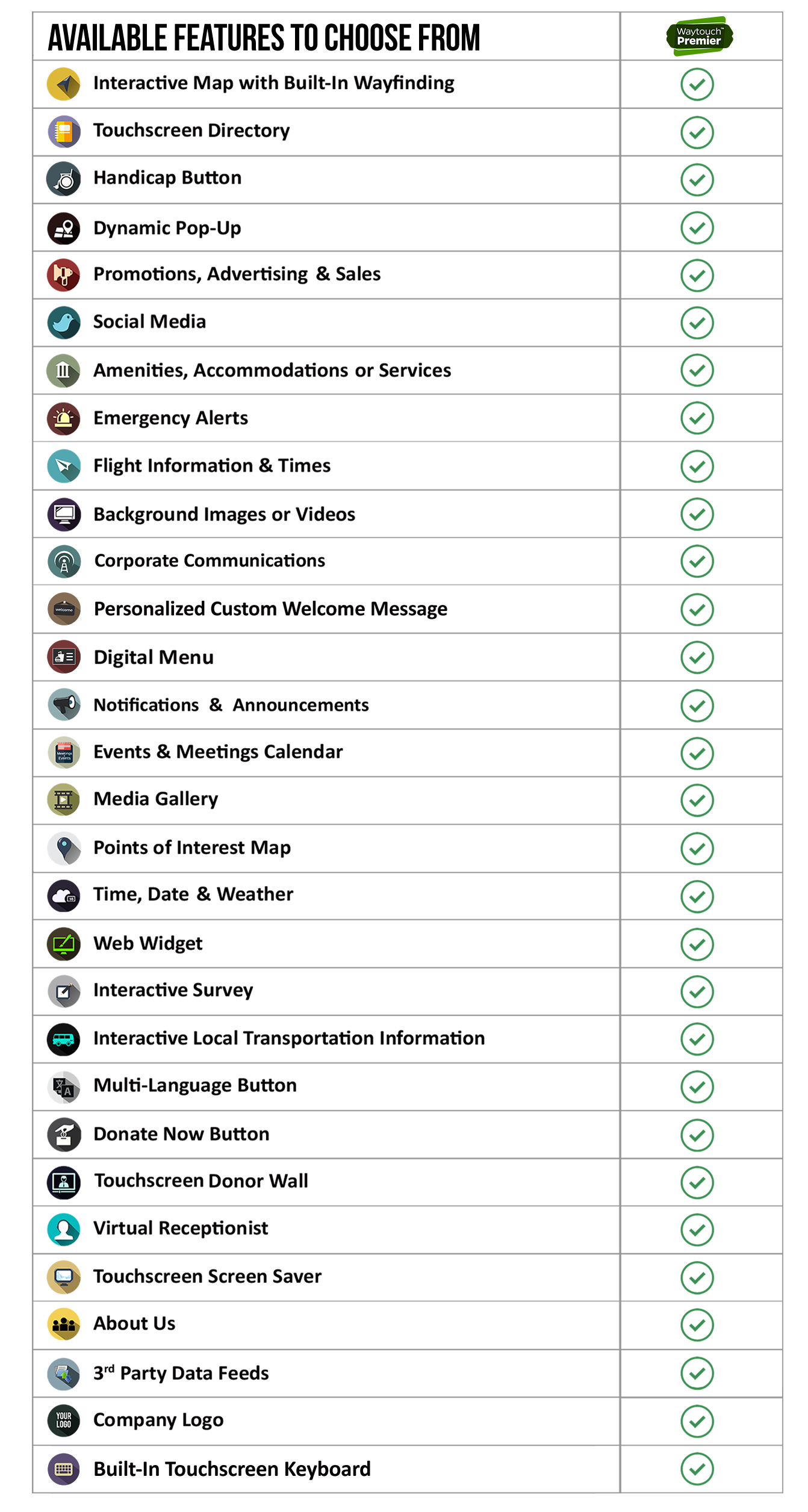 A good touch screen wayfinding digital directory system is practical and easy to use . . .
When it comes time to making changes to a directory listing, editing an announcement, or changing the content with in a media zone nobody wants to think twice about how it is done, watch training videos, or spend hours trying to create new content
For users with little or no graphic design capabilities
This system is perfect for receptionists, front desk employees, property managers, and any other non-technical individual. With the Waytouch Premoer™ touch screen wayfinding digital directory system users can master editing, updating and managing content within 15 minutes.
- Easily change directory listings, suite numbers, names and other details
- Edit all text and messages
- Upload and change images
- Create welcome messages and other daily notifications
- Update, add or edit daily event and meeting schedules

Three easy steps to change the digital directories content
When creating the digital directory content, we will set-up the Google account for you. You will use this account to make changes to the directories information and listing. Your username and password credentials will be provided to you after the system is installed.
1. Go to Google Drive
2. Enter login credentials
3. Make changes to content

Discover how
Our built-in integrations make changing the digital directories content easy
We will sync the directory listings, text, images, and other media zones with Google Drive and our proprietary digital signage software. This advanced integration will make it easy for you!

If you can type an email, you can use this system
Our software will do the technical stuff for you
Once you have made your update in the Google Drive Spreadsheet, our software will instantly do the rest. Let me explain.
- Our software will auto resize every image you upload, so it properly fits the media zone you want the image featured.
- All text updates you make are auto-optimized to match the font size, color, and style of content.
- Every update you make is saved and wirelessly sent to the display within 60 seconds.
Yes, our digital directory software supports the file formats you know how to use
• Audio formats (.MP3)
• Image files (.JPEG, .PNG)
• Text files (.TXT)
• Video files (.MP4)
• Excel (.XLS and .XLSX)
• PowerPoint (.PPT and .PPTX)
• Word (.DOC and .DOCX)
• XML feeds (.XPS)
We also support
Live RSS news feeds, weather forecasts, local time and date, streaming URL based cable feeds, scrolling tickers, local area traffic reports and maps.
FAQ
1. Google Drive is mentioned as a content sync location. Is this an account that our organization would need to create or is this accessing a vendor's account?
We will create the Google account for end-user and sync it with our software.
When the display is installed, we will provide Google information plus train end-user how to use.
2. Do the clients call to anything else outside of our firewall besides Google Drive?
Only if end-user request stream of information that requires internet connections.
An example of streams: weather forecast and daily news feeds.

3. For Network Load, is the content just pulled from the Google Drive location one time, cached locally, then stream it?
Correct all content is locally cached on the media player.
4. Is it reloaded on a regular interval, if so what is the frequency?
Content update interval time can be set per customer request.
5. What is the maximum file size that is supported?
Documents: Up to 1.02 million characters. If you convert a text document to Google Docs format, it can be up to 50 MB. Spreadsheets: Up to 2 million cells for spreadsheets that are created in or converted to Google Sheets. Presentations: Up to 100 MB for presentations converted to Google Slides.
Industry's Only 100% Digital Signage Design Satisfaction Guarantee
We guarantee you that your system's content, design, and layout will meet your exact expectations
• No strings attached, no hidden costs, no additional charges for 'design time'
• All requested features will be properly incorporated
• Your branding requirements accurately executed
How we design touch screen wayfinding digital signage
When we are working with you to create your digital directory, there are multiple design suggestions that we will review with you. We have pulled together some design principles that will help guide you through making the right decisions. These suggestions will assist you in making sure that your touchscreen wayfinding digital directory meets the needs of your customers and visitors.
1. Selecting the right orientation
There are two orientations available; portrait, and landscape. The orientation of the directory will depend on the total number of listings you have, the size of the display, and how much space you have to mount the display. You may also want to consider whether you will be placing multiple displays next to one another.
2. Make it easy to read
It might seem like a given, but legibility is the most important aspect of your wayfinding touch screen digital directory. It can be challenging in the design process, but the digital directory font sizes must be large enough to be recognizable from a distance.
For individuals standing just a few feet away, it is important that the size and font selections be appropriate. Sans Serif font and depend on the size of the display, 20-30 point font is recommended. Take into consideration that some individuals may not have the same eyesight capabilities as you do.
3. Well-balanced
When it comes to the visual layout of the directory listings, we recommended the proper balance of white space. This will help the digital directory directory not look overcrowded. It is also recommended that the use of bold font, images, varying colors, and sizes to be limited to just the sections that you desire to have emphasized to be called out over the other sections within the directory. If the listings do not fill up the entire screen, it is okay because it will be beneficial to the reader.
4. Use of images
When it comes to utilizing directory images, it will be important to ensure they are the appropriate size, eye-catching, and high-resolution. One image that you might consider using is a map layout of your building. A map tremendously helps visitors with a visual representation of the building, where they are, and where they need to go. You can also the choice to add individual images of tenants, example: an image of a doctor from one of the practices listed in the interactive digital directory.
Another option is adding a short description of the tenant and or contact information. We will make sure to leave adequate white space between images so that there is a visual gap between the text and the image itself. When selecting images, please make sure that they are images that your company has the legal rights to leverage.
5. Branding
The theme for the digital directory should align with the same theme that is being leveraged on all of your promotion materials and website. This should include your organization fonts styles, logo and same color palates. If there no specific company branding that the touch screen wayfinding digital directory is supporting, then we can apply more freedom the overall design them. If multiple businesses are listing, we always suggest a professional layout and use more generic colors.
6. Organizing the digital directories listings
Some suggestions include having the digital directory listings organized by a particular category, suite number, per floor, or alphabetized format. If you choose the category approach, we recommend alphabetizing each listing within each category. The categories should not contain the same font size and color as the sub-listings. Using alternate font styles will assist with the easiness to the eye.
7. Keep it simple
Have a design strategy will make sure that you do not go astray from the overall goal with this touch screen wayfinding digital signage. While there are several possibilities, the design should be aligned to meet your overall objectives. In other words, don't get so creative that people have no idea that your digital directory is, in fact, a touch screen digital directory. While there are a lot of design options available, it will be helpful to your building visitors if there is some level of consistency on the overall layout.
Request information today
"These are the most intuitive, logical, and well-designed solutions on the market today.  We can easily manage all content, event updates, and live feeds."
 -Doug T
 "Your team went and above and beyond! The final product meet our exact  requirements - a superb layout, beautiful graphics, and the software is so easy to use! Thank you"
 - Natalie Z
 "I could not believe all of these amazing features came built-in standard. I told them what I wanted, and they designed a beautiful easy to manage. What a great experience!"
 - Kelly M