Waytouch Premier™ Hospital Digital Signage Wayfinding
SKU: DSB-MED-WF02-BLS
The ultimate

solution for hospital digital signage wayfinding

Precision

turn-by-turn directions to doctors and departments

Streamlines

ability to share check-in information and procedures

E

asy

content updates and management using your iPhone!

Only available here

custom built, tested, and turnkey
Specially designed for medical facilities, hospitals, and clinics
If you are looking for a hospital digital signage wayfinding solution, that is highly efficient, tried and tested and includes all of the bells and whistles then you will favor this professionally designed total solution!
This all-in-one wayfinding digital signage system for hospitals will enable you to seamlessly blend your department directory, hospital wayfinding map, clinic schedules, facility amenities, patient and family services, insurance information, emergency alerts, and other important announcements into a compelling easy to manage, all-in-one visual communications platform.
Healthcare Digital Signage Wayfinding Directory System
Provide immersive multi-floor multi-building hospital maps to help your patients and visitors quickly search for, find and receive turn by turn directions to departments, doctor offices, cafeteria, parking structures, gift shop and other locations. You can choose to add a description, images, and contact information to the directory listing.
• Directions automatically are generated once a destination is selected
• 'You Here Icon' hospital map icon with turn by turn directional arrows
• All directions are based on shortest path & ease of accessibility (Smart Pathway Algorithm)
• Directions can be chosen to be sent to a mobile device via text message or email
• A wheelchair accessible button is available that auto-creates ADA compliant routes
• Fly Over: route animation that provides virtual walk through directions
• Stacked Skeleton: multi-floor destination view that supports 360-degree viewing
• Eagle View: high level, easy to see, the 3D view provides top-down route directions

Enhance Hospital Communications
Provide your patients and visitors with on-demand information and answers to frequently asked questions.
• Improve experiences by adding amusing videos and interesting health news
• Provide visitors with on-demand patient care guidelines and health information
• Reduce stress for visitors with an interactive digital directory of departments and doctors
• Integrate your Patient Online Portal for instant bill pay and appointment scheduling
• Share new insurance policy updates and programs
• Spotlight information on new life-saving procedures
Share your hospital's vision and spotlight new giving campaigns. Inspire new donations by featuring stories, videos, and biographies of past donors.
• Display personalized messages or thank-you notes
• Add photos and captions in donors' profile
• Build awareness on current and future programs
• Encourage real-time donations by adding a Donate Button
What's Included?
You will receive an out-of-the-box ready to use solution. It will ship preloaded with your facility map with directions, custom content, software, and media player. Tell us the features you need then we will custom develop, test and set up everything for you.
When completed we will ship you a ready to use system that simply works:
• Waytouch Premier™ Wayfinding Hospital Digital Signage Software
• All-Inclusive Creative Design & Content Creation
• Industry's Only Digital Signage Design Guarantee
• 1 Floor 3D Map with up to 50 Destination Point Directions
• Digital Signage Media Player w/ HDMI Cable
• Cloud-Based Digital Signage Content Management (WI-FI)
• Full Training, Set-Up & Configuration
• 12 Month Technical Support
• Live Dedicated Support Specialist
*Note: additional per floor maps and destination points can be purchased separately.
Product Instructions:
It is 4 Easy Steps
1. Place order
2. We will then setup everything for you and ship you a total solution
3. Connect the Waytouch Premier™ Media Player to your display or kiosk and WI-FI
4. Turn it on and you are done! The software with content will automatically load.
Are you looking to learn more about Hospital Digital Signage?
Take a look at these articles:
Beacon Wayfinding for the Healthcare Industry
What Are Digital Signage Wayfinding Kiosks?
6 Signs of Good Digital Signage Wayfinding
The Dummies' Guide to Interior Wayfinding Digital Signage
Creating An Effective Digital Signage Wayfinding SolutionTouch Screen Lobby Digital Directories
Standard Non Touch Screen Digital Directory
View All Available Digital Sign Directory Systems
Browse More Hospital Digital Signage Solutions
Pinch and Zoom 3D Map Views
Enhanced 2.5D Map Views
Standard 2D Maps
Local Area Attractions Map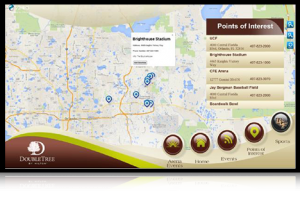 Touch screen hospital wayfinding digital signage
New interactive display technology helps hospitals to improve patient experiences while better connecting patients and employees with on-demand information
Technology. It has turned into a medical phenomenon. It is being used to save lives. If implemented, that system shown may be the new secret weapon to help hospitals improve patient experiences. Figuring out a way to improve experiences is a common concern. Every healthcare facility has to deal with it.
The stresses associated with visiting a hospital can be overwhelming. Finding a doctor, receiving directions, and receiving answers to questions are all examples of what patients, family members, and visitors ask for and need every day. A comprehensive system that provides concise communications is needed to reduce the typical stresses associated with visiting a hospital.
A professional system
The Waytouch Premier™ is a new all-in-one touchscreen wayfinding directory solution that plays a vital role in keeping patients, visitors, and staff well-informed with up to date information and notifications. Patients in waiting rooms, visitors entering the lobby, hospital staff at their stations and employees chatting in the break room are all points of engagement that digital signage can be used.
First, the Waytouch Premier™ above provides accurate pinpoint directions to any destination, building or wing within a hospital. This immediate access to directions instantly relieves irritation associated with finding a doctor.
Secondly, the depth of additional information that can be incorporated into the Waytouch Premier™ is second to none.
Improve patient experiences
Using the Waytouch Premier™ you can provide patients and visitors with immediate answers to common questions. This easy access to information brings clarity and relief.
• Integrate online patient portal for pre-check in
• Share insurance policy updates and programs
• Spotlight information on new life-saving procedures
• Broadcast important announcements and updates
• Add amusing videos and health news
Eliminate confusion
It is true. A well-implemented wayfinding system promotes healing. Let me explain. It is more than convenience. A well-designed system communicates to everyone who enters your facility that your hospital is organized, professional, and capable. By implementing a well-planned wayfinding system patients and visitors are more likely to arrive on time for an appointment with trusting positive attitude towards staff.
State of the art mapping
Included with the WWaytouch Premier™ is the creation and set-up of dynamic touch screen maps. The immersive multi-floor multi-building hospital maps will enable patients and visitors to quickly search for and receive directions to departments, offices, parking structures, and other locations.
Conveniently make changes
Remotely update all listings, names, descriptions, images, and other media directly from a computer or cell phone. All changes you make are wirelessly sent to the display!

Ready to use
Our design team will create all of the directory content, graphics, and set-up everything for you. Once installed, the system is self-operational and requires zero on-going maintenance.
When placing your order simply let us know which features you would like and our graphics design team will creatively incorporate everything you need into the digital signs interface.
You can select as many features as you'd like and you'll always receive the same flat-rate price from us. We do not bill by sets of features, by "slides" or design time.
What the combination of features would like to incorporate into the displays interface?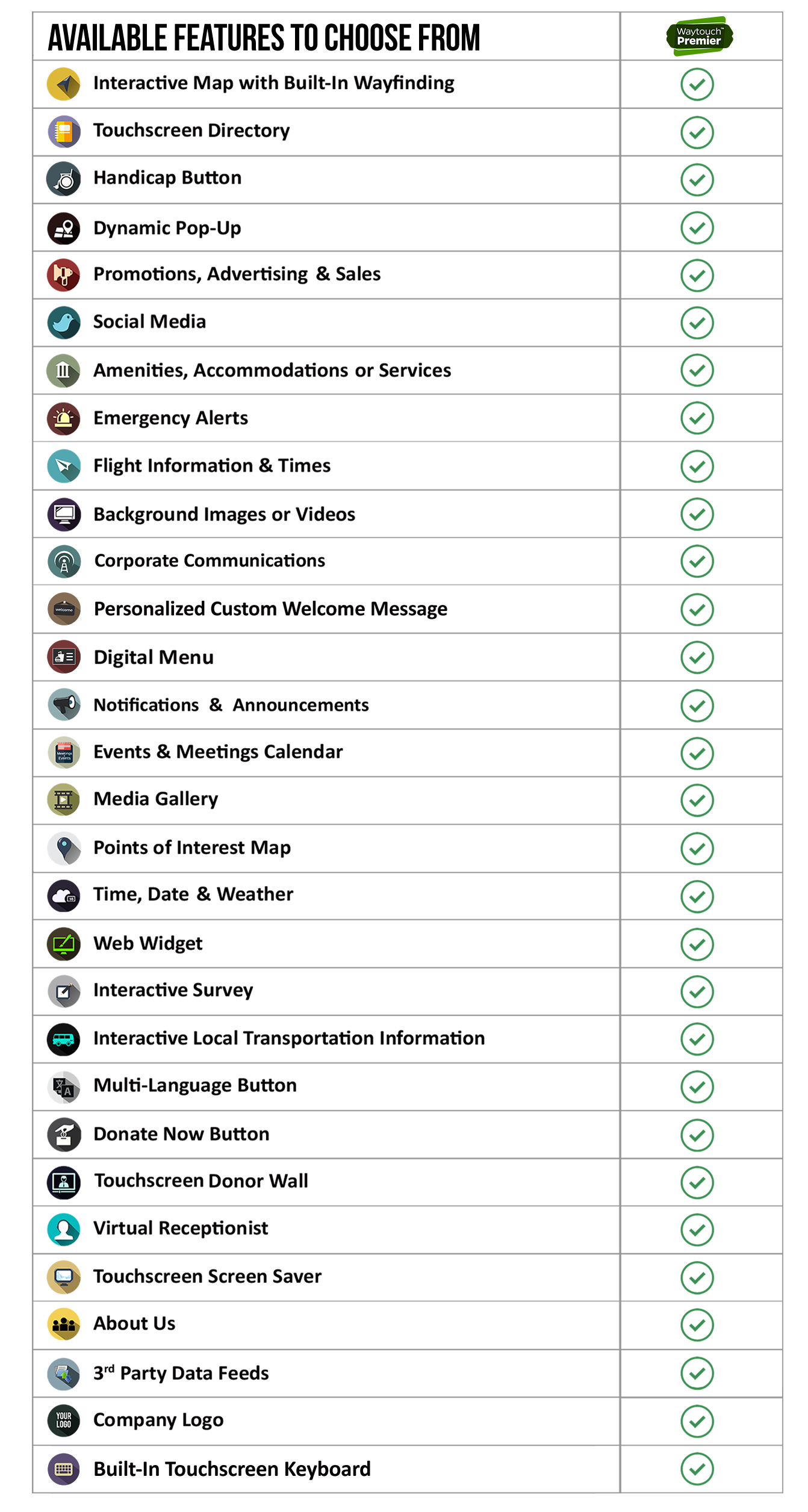 Use Your iPhone To Update Daily Messaging and Other Media
This easy to use digital signage content management platform is ideal for users that have no graphic design capabilities and simply want to update media zones easily.
Average users master content management within 15 minutes! No drawn out webinar to attend.
• Edit all text and image zones
• Upload images right from your desktop
• Update media albums with video, powerpoint, and images
• Manage events, meetings, and other calendar events
• Create user groups for privilege control
• Remote access from any device, at any time
• Free to use cloud-based content manager
How does Google Drive Content Management work?
Using our Proprietary Publisher Pro Digital Signage software, we integrate every media and text zone with Google Drive.
This integration leverages the power of our all-in-one platform while eliminating the need for annual SaaS fees.
• Our software auto resizes every image and video you upload. No graphic design needed.
• All images sent to a media zone will be adjusted to fit perfectly inside the zone.
• All text updates you input are auto-optimized to match the font size, color, and style.
• Every change you make is wirelessly pushed to the display within minutes.
• Multi-User / Multi Admin control levels are available.
FAQ
Google Drive is mentioned as a content sync location. Is this an account that our organization would need to create or is this accessing a vendor's account?
We will create the Google account for end-user and sync it with our software.
When the display is installed, we will provide Google information plus train end-user how to use.
Do the clients call to anything else outside of our firewall besides Google Drive?
Only if end-user request stream of information that requires internet connections.
An example of streams: weather forecast and daily news feeds.

For Network Load, is the content just pulled from the Google Drive location one time, cached locally, then stream it?
Correct all content is locally cached on the media player.
Is it reloaded on a regular interval, if so what is the frequency?
Content update interval time can be set per customer request.

What is the maximum file size that is supported?
• Documents: Up to 1.02 million characters. If you convert a text document to Google Docs format, it can be up to 50 MB.
• Spreadsheets: Up to 2 million cells for spreadsheets that are created in or converted to Google Sheets.
• Presentations: Up to 100 MB for presentations converted to Google Slides.
What file types are supported?
General files
• Audio formats (MP3, MPEG, WAV, .ogg)
• Image files (.JPEG, .PNG, .GIF, .BMP)
• Text files (.TXT)
• Video files (WebM, .MPEG4, .3GPP, .MOV, .AVI, .MPEGPS, .WMV, .FLV, .ogg)
Microsoft files
• Excel (.XLS and .XLSX)
• PowerPoint (.PPT and .PPTX)
• Word (.DOC and .DOCX)
• XML Paper Specification (.XPS)
Industry's Only 100% Digital Signage Design Satisfaction Guarantee
We guarantee you that your system's content, design, and layout will meet your exact expectations.
• No strings attached, no hidden costs, no additional charges for 'design time'.
• All requested features will be properly incorporated.
• Your branding requirements accurately executed.
Request information today
"These are the most intuitive, logical, and well-designed solutions on the market today.  We can easily manage all content, event updates, and live feeds."
 -Doug T
 "Your team went and above and beyond! The final product meet our exact  requirements - a superb layout, beautiful graphics, and the software is so easy to use! Thank you"
 - Natalie Z
 "I could not believe all of these amazing features came built-in standard. I told them what I wanted, and they designed a beautiful easy to manage. What a great experience!"
 - Kelly M