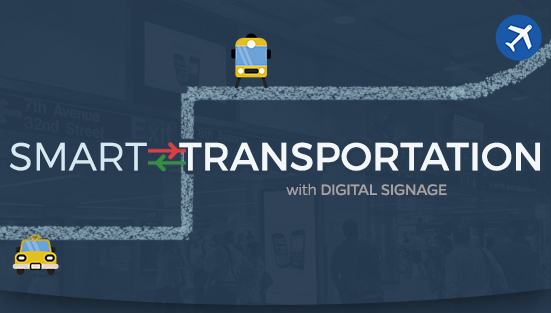 Commuters, passengers and travellers live in a real-time world, expecting real-time, relevant information at their fingertips. It only makes sense to install digital signage in train stations, bus terminals, taxi stands, subways, cruise lines and airports so that these customers can be fully served.
Wayfinding signage and interactive kiosks deliver safe, efficient and productive travel experiences for everyone - providing the right information at the right time in strategic areas.
Visual Communications provides vast benefits including:
• Engage passengers with news and weather information
• Reduce perceived waiting times
• Deliver arrival and departure information, cancellations and delays, or service interruptions
• Notifications on impending traffic and road constructions
• Communicate service disruptions or emergency broadcasts
• Provide travel assistance through interactive kiosks
• Guide guests and visitors on ground locations
• Carry advertising that supports businesses around the facility
• Boost sales of businesses in terminals
Digital screens and wayfinding kiosks can deploy vital information such as weather alerts, current events, schedules, etc. and help to ensure safety and convenience of passengers, travellers and commuters.
Finding directions, making reservations, checking ticket prices, waiting for departure, etc. are all part of travelling. Interactive and visual transportation signage integrating different technology can offer real-time reservation and scheduling information.
Digital signage in the transportation industry drives engagement and entertainment to wait for passengers and travellers. Shops, businesses, and restaurants within the facility also benefit from digital signage as an advertising tool which is perfect for attracting viewers.
Digital signage on taxi terminals and bus stops alert passengers of upcoming arrivals and promote local attractions.
The shift of traditional signage to interactive digital wayfinding has led significant improvements in facilities around the airport, stations and terminals. These locations, wherein large volumes of people need to find their way and reach their destination quickly, are now enjoying the benefits that digital technologies offer.
Digital Signage Solutions for the Transportation Industry
Self-Check-In Kiosks: Digital kiosks in airports offer a quick alternative for travellers who want to avoid the queues. They can use the kiosks to scan their passports, choose seats and have their tickets printed. Maps and directions can also be loaded once a ticket is scanned.

Interactive Touchscreens: This allows travellers to locate their destination and find a particular location on the screen. Some digital solutions provide additional information such as elevator operation times, alternative routes, flight information, and a lot more. The scanning of tickets during arrival or departure helps travellers to locate their baggage and make it to terminals on time.
Ad Displays: Travellers in the waiting areas are more likely to pay full attention to digital advertisements and interactive displays. This creates greater consumer engagement which is liable to benefit the businesses that pay to have their ads shown.

Visitor Service Center: Digital kiosks can serve as an information center for guests and travellers who need answers to common inquiries. People can quickly find information such as restroom locations, items prohibited from carry-on bags, the nearest convenience store, restaurant and a lot more. They can easily be converted to digital kiosks and remove the worries of travel.
The advent of digital signage in the transportation industry proves to be beneficial, efficient and smarter than ever. It is the perfect solution and serves as the heart of the transportation industry.
So why not help travellers avoid the rush and enjoy richer overall experiences by utilizing interactive digital signage?