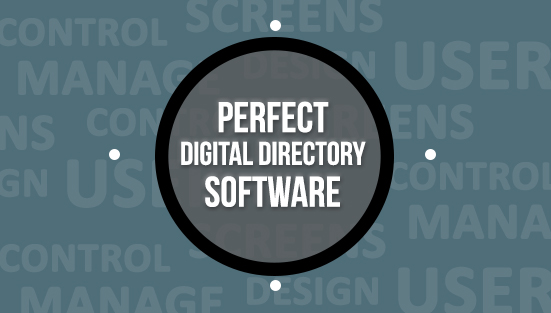 A digital directory can be a great asset to your establishment. It can be an attractive, versatile and simple resource for customers and visitors to guide them to their desired destination.
To implement an effective digital directory, you will need a digital signage software to power your directory. Because there is a large variety of digital signage software that each contain pros and cons, we have come up with a few considerations to assist your selection process.
1. User friendly
Digital directory software come in a variety of options, some of which are more user-friendly than others. Looking for a software that is fully configured around your needs and comes pre-loaded onto the display or media player will help you save deployment time. The software is self should provide you with the ability to control all directory listing through a web-based dashboard that you can access on any mobile device (iPhone and Android) or computer. This ease of updates will make day to day digital directory management easy and effective.
2. Scalability
Looking into the future will assist you in the long-run for your decision-making process. Your current needs may not require a robust software; however, things can change within your organization that will result in the needs expanding in the future. It is best to make one investment to cover all future possibilities than re-invest in technology and tools when the need expands in the future.

3. Multiple screens or locations
If you have a large building with multiple floors and entrances, it will likely require placing a display at each focal point within the facility to guide your visitors. If there are multiple locations, then you will also need this replicated across the various locations. It is helpful to select a software that can manage all of the content throughout the entire building through one dashboard. It is also convenient to allow multiple users to control the content that is being displayed.
4. Your options for digital directory design
Design for the digital directory can be as direct or complicated as you would like. You can use the digital directory only for tenant listings or turn it into a sales opportunity to evolve the directory with ads or various promotions to increase exposure. Considering the purposes that a directory will solve for your business now and in the future, will assist you in understanding whether you desire an off-the-shelf product or if software that provides customizable graphic design options.
5. Digital directory maintenance
Maintenance of a digital directory will likely occur whether it is evolving changes in tenants or it is changed in content that needs to be displayed. The likelihood of change with a digital directory is a high probability. The probability increases further if there is a request to leverage the digital directory for other content pushes such as local area advertisements.
6. Easy to update
The ability to update your tenant listings or other content from a web-based dashboard is a key attribute that digital directory management systems should have. When reviewing a software platform try to involve your property managers as they would be using the software.

7. Cost considerations

The biggest weight in decision making tends to be the cost. When you consider having to purchase a software and a device separately it can appear to be costly. To solve this set-back many digital signage companies charge recurring monthly fees to access to their software. This option may appear attractive but remember you will always be stuck paying a recurring monthly or annual fee.
We can help you!
At DigitalSignBuilder we provide turnkey digital directory packages that include the software, professional directory graphic design, media player, an easy cloud-based digital directory content management platform, a commercial grade digital sign plus all cables. Every package is a one-time cost and does not require annual fees.
With DigitalSignBuilder it's easy, you tell us what you want and we'll custom design, set-up and install a complete solution for you. We will provide you with complete training and support after the digital directory system is installed. When you need to make edits to a directory listing you can simply use your iPhone or Android device. Within minutes of making your edits the new information is being display on the directory! For more information on our digital directories give us a call. 408-933-3300
Have you seen the other chapters in our digital directory series?
Your Guide to Finding a Digital Directory: The Basics (Part 1 of 7)
An Introduction To Digital Directories (Part 2 of 7)