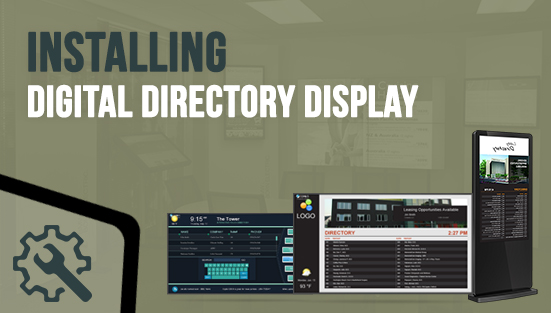 Digital directory signage installation varies from a complexity perspective depending on the number of displays you plan on using throughout your building. Identifying the right contractor with the appropriate skills to install the digital directories will depend on the type of software you purchase. If the software is deemed turnkey, then the contractor role would be limited to installation of the devices themselves. If the software is not turnkey, then there will likely be a need to have a system integrator present working in parallel to the contractor.

General Contractors
There are a variety of contractors, but general contractors tend to be the most cost-effective and easiest to retain for installation of digital displays. Contractors can assist you with a variety of tasks, such as mounting the displays, hiding wires, and making sure internet and power are working correctly. These tasks are limited to plug and play or turnkey solutions. Below are some examples of sites where you can find professional contractors:
AngiesList – Local services website that features company reviews, upfront pricing, and a service satisfaction guarantee.
Houzz – Find the general building contractors.View company portfolios, reviews, and rating.
Field Nation – Search for contractors in a user-friendly format. Nationwide listings of contractors.
OnForce – OnForce is a tool that links you with freelance contractors where you can place a price bid out there for what you are looking for.
Pro AV Integrators
As identified earlier, if the software is not installed on the display itself, you will need to consult a system integrator. System integrators can assist you in getting the software set up with the display. Below are two options for finding individuals with this capability:
Work Market – Freelance website where you can find digital signage installations specifically.
SCN Top 50 –Great resource to compare candidates you are selecting.
It is recommended to purchase a device that already has the software, but regardless of the decision made, ensuring safety is a consideration of the installation is crucial.
Verify Your Contractor
Contracting organizations often are licensed through the state of work. When you select a contract, you can review to ensure that they are licensed through the state by searching here.

Follow County, State & Federal Safety Codes
Some counties and states required certain fire codes being met when it comes to installation of the displays. Contractors should be aware of these codes, but it will help to be aware of this requirement and do some research. If your contractor does not present you with this consideration, it should concern you from a potential liability perspective.

Final Note: Display Casings
There are a few options for displays that can be utilized, such as wooden, glass, plastic or customized cases. These cases do allow for protection of the devices, but they come at an additional cost. From an installation perspective, it is important to notify the contractor that this is a design feature you desire and to make sure that the product is ready at the time of installation if ordered separately.
We can help you!
At DigitalSignBuilder we provide a turnkey digital directory packages that include the software, professional directory graphic design, media player, an easy cloud-based digital directory content management platform, a commercial grade digital sign plus all cables. Every package is a one-time cost and does not require annual fees. We also provide optional installation services.
With DigitalSignBuilder it is easy, you tell us what you want, and we will custom design, set-up and install a complete solution for you. We will provide you with complete training and support after the digital directory system is installed. When you need to make edits to a directory listing, you can simply use your iPhone or Android device. Within minutes of making your edits, the new information is being display on the directory!
For more information on our digital directories give us a call. 408-933-3300
Have you seen the other chapters in our digital directory series?
Your Guide to Finding a Digital Directory: The Basics (Part 1 of 7)
An Introduction To Digital Directories (Part 2 of 7)
7 Things To Consider When Choosing Digital Directory Software (Part 3 of 7)