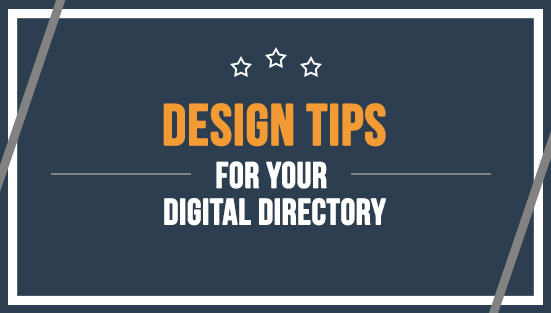 A huge advantage of using a digital directory is the customization that will lend itself to your brand and allow for easy changes. When looking to create your digital directory, there are several design options to choose from. We have pulled together some design principles that will help guide you in making the right decisions. These design guidelines will assist you in making sure that your digital directory meets the needs of your customers and visitors.
1. Selecting the right orientation
There are two orientations available for digital directory design, portrait, and landscape. It will depend on the number of listings you will have and the location of each directory display regarding which orientation would be the best solution for your building. You may also want to consider whether you will be placing multiple displays next to one another.

2. Make it easy to read
It might seem like a given, but legibility is the most important aspect of your digital directory. It can be challenging in the design process, but the directory should contain font sizes large enough to be recognizable from a distance. This will often require large, bold font at the top of the screen providing them guidance.
For individuals to be able to view the display without difficulty while standing just a few feet away, it is important that the size and font selections be appropriate. Sans Serif font is recommended and depending on the size of the display, utilizing 20-30 point font or larger is recommended. Take into consideration that some individuals may not have the same eyesight capabilities as you do.

3. Balancing visual layout
When it comes to the visual layout for the directory listings, it is recommended to make sure that there is still white space on the screen to help with the directory not looking too overcrowded. It is also recommended that the use of bold font, images, varying colors, and sizes to be limited to just the sections that you desire to have emphasized to be called out over the other sections within the directory. If the listings do not fill up the entire screen, it is okay because it will actually be more beneficial to the reader.
4. Images with high-quality
When it comes to utilizing directory images, it will be important to ensure they are the appropriate size and eye-catch with high-resolution. One image that you might consider using is a layout of your building with the rooms laid out. Make sure to have white space next to the images so that there is a visual gap between the text and the image itself. When selecting images, please make sure that they are images that your company has the legal rights to leverage. One company that can provide you with options to purchase images for a single use is iStock photos.
5. Branding
The theme for the digital directory should align with the same theme that is being leveraged on all of the promotion materials. This should include the fonts styles and color palates. If there is not one specific company that the digital directory is supporting, then there can be more freedom to the theme being applied. If there are multiple businesses involved, though, you should consider keeping the look more professional and use more generic colors throughout.
6. Organizing the listings
When you have multiple items listed within a digital directory, you will want a certain format for the organization to ensure that the visitors can easily look up the specific listing they are trying to locate. Some suggestions include having this organized by a particular category or alphabetized format. If you choose the category approach, then it is recommended to alphabetize within each category. The categories should also not contain the same font size and color as the sub-listings. This will assist with the easiness to the eye.

7. Keep it simple
Have a design strategy will make sure that you don't go astray from the overall goal with this digital directory. While there are several possibilities, the design should be aligned to the overall strategy. In other words, don't get so creative that people have no idea that your digital directory is, in fact, a digital directory.
While there are a lot of design options available, it will be helpful for the visitors if there is some level of consistency on the overall layout. Digital directories have been in place for some time and there is some acceptance from the visitors into what things look like. It will help the visitor if they have a common place to look and interpret what is being presented on your digital directory. While look and feel can be revised, it will be helpful to stay consistent from a functionality perspective.
Keep the design principles in mind when maintenance comes up in the future. Changing the design is not only easy, but it is free. While there is a lot of effort put on design in the initial upload, it will be important to ensure that this continues with future iterations.
We can help you!
DigitalSignBuilder provides turnkey custom designed digital directory solutions.
Simply tell us what you want, and we will custom design, set-up and install a complete solution for you. For more information on our digital directories give us a call. 408-933-3300.
Click here to learn more about our Florida digital sign operations.
Have you seen the other chapters in our digital directory series?
Your Guide to Finding a Digital Directory: The Basics (Part 1 of 7)
An Introduction To Digital Directories (Part 2 of 7)
7 Things To Consider When Choosing Digital Directory Software (Part 3 of 7)
Installing Your Digital Directory Display (Part 4 of 7)