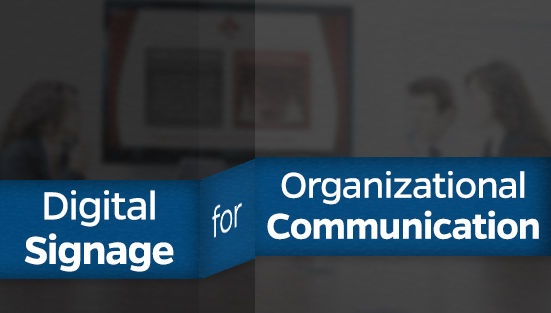 Communication is vital for every organization. It connects all elements of the business, but it has to start from within. This is one reason many businesses are already embracing digital signage technology to strengthen their communication efforts.
Digital signage is replacing bulletin boards, banners, posters and hard copy notices in company lobbies and communal areas since these traditional forms of media have their limits. As people are trained to look at screens, digital signage also tends to get their attention more effectively.
Introducing modern day notice boards to the workplace improves engagement level and fosters a sense of community. It has already been proven to supplement organizational communications and serve as a powerful tool for disseminating information, security alerts and operations tracking. Digital signage is beginning to pave the way for better corporate communication.
Still, some smaller businesses are still unsure of the benefits that digital signage brings to their organization.
What makes digital signage better?
• It can deliver breaking news and alerts in real-time
• Messages can easily be updated
• Bright screens, visuals and motion capture attention
• It can show multiple files on one screen
• It is less costly than print
Also, it can reach viewers in different ways. As some people prefer to read the text, others prefer motion graphics, audio, and video. Some also prefer interactivity like touch screens or personal computers. Digital signage can deliver all these, which makes it essential for everyone's preferences.
How can digital signage improve internal communication?
Establish strong company culture
Digital signage strengthens the bond of the company through its employees. Common goals stimulate a positive work environment and boost employees' morale.
Internal communication can be improved by,
• Recognizing employee achievements
• Displaying inspirational, encouraging, or motivational messages Brightening the atmosphere with photos and videos in a creative or informational way
• Broadcasting employee anniversary or birthdays, or other schedules
• Celebrating top department performers or employees
Manage employee training
Digital signage illuminated the learning process. It is a brilliant way to conduct employee training as it cuts down excessive time and money needed to print training materials. This makes employees more engaged with the brand and helps with on-boarding
Do this by,
• Playing video tutorialsto
• Demonstrating new procedures
• Displaying orientation information for new hires

Share performance metrics
It pays to keep everyone informed of company progress. Sharing data related to sales, production, and internal analytics gives employees insight what's happening to the company. Project tracking, corporate news, event schedules, and showcasing innovations are common uses as well.
Digital signage can be placed in areas where employees can see them frequently - like in the hallway to inform managers about stock prices, and financial results. It can be placed in production floors to inform the workers about goals and production statuses, or in conference rooms to show sales figures and sales quotas.
It can also display online feedback from customers and the state of the competition in the market. This can help to boost morale and keeps them motivated knowing that they are part of the companies' achievements.

Fast, easy and engaging communication
Digital signage is very effective in day-to-day and situation-driven communications. Static message boards, paper memos, and even emails can cause important information to go unnoticed.When messages are displayed on screen, they have a greater chance of being noticed and acted upon.
• Integrate emergency, live weather alert or news feed
• Disseminate health, safety, and emergency procedures
• Advertise social events and internal activities
• Reinforce company brand, mission and goals
• Enhance workflow and operational performance
Keeping your employees informed, connected, and engaged are just as important as enhancing customer experiences. When placed in lift lobbies, hallways, break room, cafeterias, reception areas, etc. - digital signage delivers significant results. Whether enhancing internal corporate messages or providing relevant information to visitors, digital signage is the one solution that does it all.