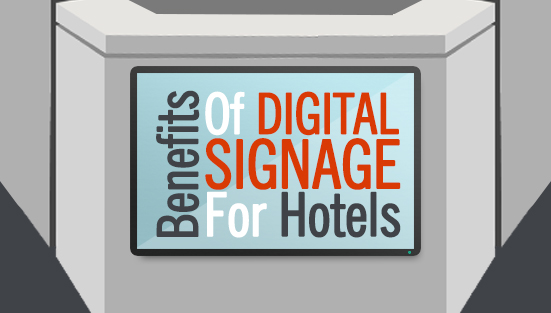 Communication with hotel guests plays a big role in business impact. Guests want to be engaged by hotels with relevant information, and they want this to be reliable. Hotels also need to provide their staff with strong communication systems. The goal of communication technology should be to empower the relationship between guests and staff.
Digital signage has been part of the hotel industry for years. However, up until now, hotel digital signage was limited to hotel TV's. Amenities, restaurants, and in-room movie menus were common uses. But hotels have much information to communicate, and it is difficult to get this information to the guests quickly and easily. This is where the next generation of digital signage plays a significant role, and it is great that nowadays, hotel communication has already begun to undergo a great revolution.
Deploying digital signage throughout various areas of the hotels, such as in lobbies, hallways, elevators, floors, and outside of meeting rooms, increases engagement and gives guests a memorable experience during their stay. Guests can have access to wayfinding information; events, explore the amenities, and shops located within the hotel. Also important is the appearance of digital signage within the rooms. These large volume projects bring the technology directly to the consumer to provide the very best, next-level experience.
Digital Media in Hotels
Whether your guests need a relaxing break, a comfortable working stay, or a pleasurable experience, they expect your digital signage services to make their stay truly convenient. Memorable experiences create engagement that traditional static signs, menus, and brochures can never provide.
Not only will digital signage inspire guests to pamper themselves, but it also removes the strain from your hotel reception staff as they focus directly on customer service for those who need it most, letting the system handle the menial work.
There are various ways in which digital signage is transforming the hotel guest experience. This includes:
1. Promote Offerings. Inform your guests about package deals, specials, and promotions. Modify this content to keep it fresh around the clock and suit the needs of your guests. Even use the space as an additional ROI with external business affiliates.
2. Answer Relevant Questions. Assist guests in finding answers to their frequently asked questions. Use the digital screens inside their rooms to provide information to their queries such as breakfast schedules, hotel spa fees, and services, and a lot more.
3. Deliver Relevant Content. Provide guests with helpful information throughout their stay. This can be events in the hotel restaurants, local activities, airline flight announcements, weather information, news and other content. Even key reminders such as "bring your jacket,"carry an umbrella," or "don't miss your flight!" can be flashed on the screen.
4. Automated Check-in/Out System. Through interactive kiosks, guests can quickly check-in and out of the hotel. This reduces the time spent by guests waiting in line at the concierge.

5. Hotel Amenities. Encourage guests to explore and visit other areas in the hotel like fitness centers, bars, gift shops, spas, vending machines, and conference rooms.
6. Wayfinding Assistance. Most hotel guests usually turn to hotel staff to ask for directions. Interactive maps can provide guests ease of navigation especially in large hotel chains or interconnected properties.
7. Highlight Local Attractions. Take your signage to the next level by creating a resource for guests to learn about local attractions, special events, and other places of interest. Interactive maps can display landmarks, historical sites, and popular attractions in the area that can encourage guests to pay a visit.
Hotels and Digital Signage are a match made in heaven. There are endless mutually beneficial possibilities. A good solution improves customer service, drives incremental profit, increases staff efficiency, and delivers enhanced guest experiences. Whether guests are waiting in the lobby or wandering in the hotel building, digital signage can make their stay pleasant, providing them with a superior lodging experience.