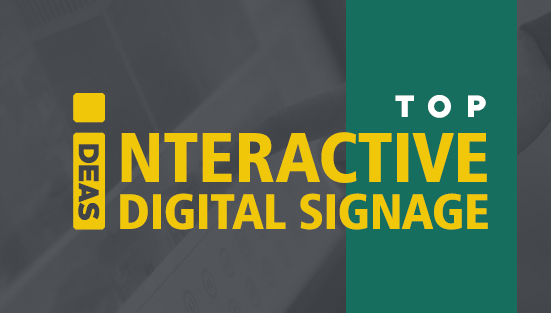 Digital interaction is taking the market by storm. It is part of our daily lives - whether the information is delivered via a smartphone, tablet, public signage or in-store display. We seek and get the most out of experiences we can interact with.
As users become more familiar with their mobiles and tablets, they want the same experience from public venues and stores.
However, then for businesses and organizations, the success of investing in interactive digital display solutions depends on finding the right software, display hardware, and design services. The choices can be overwhelming. Many don't know where to start, from dynamic touch screen kiosks and video walls to mobile-based interactive systems.
There are six interactive display solutions for today's market. They've been chosen based on popularity and common necessities. Each aims to: share information, advertise promotions, encourage engagement, and offer the best user experience possible.
Virtual Concierge
This digital solution works as a virtual staff member to provide a variety of applications in the market such as a restaurant menu kiosk and a self-checkout line. A touch screen display is usually placed in common areas where users can browse and find the information they need. Some virtual concierges are adaptable to mobile devices.
Supplement a virtual concierge with on-premise staff. A kiosk is a teaching tool and quick reference for the staff member. When staff members are busy, customer satisfaction can be guaranteed by pointing them to the digital experience.
Customer service is vital for improving every business; companies that invest in a virtual concierge are rated higher in overall service. Banks, restaurants, and grocery stores are using virtual concierge as part of their customer's core experience.
Mobile-Based Interactivity
With advances in technology, mobile devices can now communicate with digital display networks. This is made possible through swipe sensors and other proximity-triggered data.
An interactive kiosk can host an app which can be downloaded on mobile devices. This gives users a multi-channel experience by interacting with the same system on multiple devices. It allows access to point-by-point wayfinding directions, location-based information services, and receives content from their devices.
Real-Time Data Reporting

Interactive displays can be a real-time business changer when used effectively. Organizations leveraging actionable intelligence can collect real-time data from their users to gain a more competitive advantage. Digital interfaces can serve as either a touch point in this process or on the back end reporting.
With real-time data reporting, important metrics can be checked as well. As users engage with the content, customer data can be collected, sorted, and analyzed. This data can be used by marketers to analyze users' behavior to help the organization develop their marketing campaigns, improve their products or services, and/or provide other incentives and customized experiences.
This functionality is very vital for manufacturing sites, contact centers, and other businesses with huge data centers.

Smart Marketing Content
Displaying relevant and compelling content is essential to the success of an interactive display. This allows for more engagement, personalization, and improved marketing activities.
Businesses and organizations can leverage interactive experiences, especially where it counts: at the point-of-decision. Text, images, videos, flash animations, directional maps, digital brochures, and other superior marketing content can be displayed on the screen at opportune moments in the customer lifecycle such as at the point of sale, the point of acquisition, or potential points of loss.
More than that, analyzing user inputs can lead to a personalized active engagement. Users are sometimes greatly influenced by the right personal message. It shows them that your brand understands them and suits their needs, which improves loyalty and repeat experience.
Video Conferencing Kiosks
Video Conference Kiosks are completely immersive and a great substitute for live interaction. It's like having an extra person on premise, but the interaction can be done remotely. Therein, one staff member can serve multiple locations at once!
Users can simply initiate a live video call and make a conversation via the video chat window on the digital display. Users and customers who need in-depth assistance can communicate with a remote professional representative face-to-face.
The retail, government, healthcare, airline and now other industries can benefit from this functionality. It also has its common place in the lobbies of corporate offices, residential buildings, and other commercial liabilities.
Retail Kiosks Stations
Digital technology plays a huge role in brick-and-mortar stores, acting as a virtual salesperson. Aside from providing information, the touch screen interactivity offers searchable product details allowing users to access the product catalog, check stock, and help with sizing issues. More advancements include interactive mirrors which enable users to try clothes "virtually" using a gesture-based interface and click the product for check-out.
Restaurants can also use this as an attractive menu board and self-service ordering kiosk that directly link to the point-of-sale system.