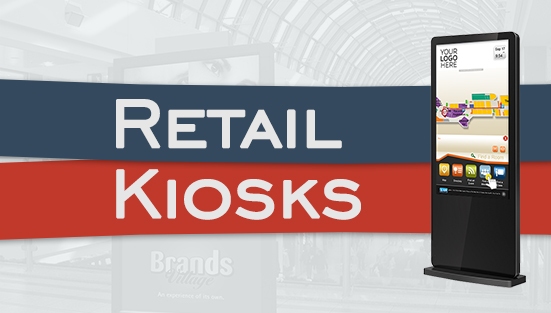 For well-established businesses or those who are just entering the retail marketplace, digital signage kiosks provide new and exciting opportunities with many benefits. Boasting the ability to provide steady, stable growth and a noticeable increase in profit, it is no surprise that the popularity of touchscreen retail digital signage kiosks is growing rapidly across the world.
How do retail digital signage kiosks work? First, they enable a business to reach more customers and, therefore, drive sales opportunities; they also allow an incredible new level of visibility and opportunities to grow a brand identity. To get ahead of the market, read about some of the benefits touchscreen digital signage kiosks can offer your business below.

1. Easier and more trustworthy brand experience
One of the biggest benefits of retail kiosks is that they are high visibility. They are accessible to customers and can quickly provide the same level of information as a standard retail or web store. The ability to speak directly to a brand representative about any issues the customer might be having drives loyalty, trust, and connection and, as a result, improves the overall buying experience.
2. Easily build customer base
Digital Signage Kiosks have more visibility in standard retail spaces and as a result, have the ability to increase brand visibility and attract a sizeable customer base. Customers desire a social sense of community; it is why 'mom-and-pop' stores are viewed with greater affection than corporate chains. Kiosks can enable that sense of social connection with the right spokesperson in place. The kiosk design is also important. It should feel open and welcoming. As long as the kiosk development and design is strategic, Kiosks are a cost-efficient way to expand business and drive revenue simply through promotion and raising awareness.

3. Run your business profitably
Retail spaces can be expensive; especially during times when revenue is low. It is no secret, however, that a Kiosk costs substantially less not only to maintain but also to develop and design. Standard monthly retail costs include rent, administrative costs, storage, and upkeep. Except human resources, monthly expenditure is significantly less costly for a kiosk space. Without retail costs to worry about, the business will be able to focus on providing exceptional service to potential customers, increase sales volume, and even afford extra revenues to develop a larger online presence.

4. Increase business efficiency
Digital Signage Kiosks give retail stores the ability to streamline efficiently and effectively the customer experience. This means many of the tedious and boring tasks that come with running a business are easier, faster and more interactive with the customer rather than the upkeep. Not only does this cut down on business costs as mentioned above, but it also allows the customer to be the focal point, improving satisfaction and loyalty to the experience provided by the brand.
5. Increase staff morale and lower workload
The primary purpose of a retail digital signage kiosk is to engage customers and handle inquiries. Being that some questions are unrelated to sales, a load can be taken off the backs of the sales staff, and they'll be more able to focus on their actual sales. Not only does this make their job easier and thus increase their morale, but they'll likely see an increase in overall revenue resulting in staff benefits. Kiosks are often a used internally for HR needs by the staff themselves, making it easy for staff to understand and manage their own business.
It is easy to see that retail digital signage kiosks are likely the future of the retail world. Not only can they increase visibility, brand awareness, customer satisfaction and business efficiency, but they can also, and most importantly, drive revenue and business growth; arguably being one of the most cost-efficient ways of going about it.