Waytouch Premier™ Retail Store Digital Signage Wayfinding

SKU: DSB-MALL-WF02-BLS
Precision

turn-by-turn directions to departments and products

Strengthens

your ability to promote sales and VIP programs

Maximize

impulse sales by showing consistent value driven ads

Easy

content updates and management using your iPhone!

Only available here

custom built, tested, and turnkey
Specially made for retailers looking to improve store wayfinding and better promote sales
If you are looking for a retail wayfinding digital signage solution, that is highly effective, tried and tested, and dramatically improves customer experiences then you'll favor this easy to manage professionally designed system.
Touch Screen Retail Wayfinding Digital Signage
Using this all-in-one retail digital signage wayfinding system you can seamlessly provide customers with turn by turn directions to specific products, aisles, departments or floors, promote sales, your weekly ads, and other important notifications into this easy to manage visual communication platform.
• Built-In keyboard for quick and easy destination is searching
• Touchscreen store digital directory that is linked to the wayfinding map
• Directions automatically are generated once a destination in the directory is selected
• 'You Are Here' map icon with turn by turn directional arrows
• All directions are based on shortest path & ease of accessibility (Smart Pathway Algorithm)
• Directions can be chosen to be sent to a mobile device via text message or email

You Can Create the Ultimate Customer Experience
Compliment your retail store wayfinding map with a series of engaging features. The Waytouch Premier™ enables users to browse quickly through different pages, buttons and areas of informative content and media. This freedom creates remarkable customized user experiences.
You can choose from over 30+ immersive touchscreen feature buttons plus an unlimited combination of distinctive retail media zones:
• Include interactive surveys to gain valuable customer feedback.
• Add FAQ button featuring answers on-demand customer inquiries.
• New featured products or services
• Highlight interactive galleries introducing new products (images and videos)
• Spotlight your weekly ads and daily sales
• Connect your online shopping catalog with Shop Now capabilities
• Integrate your customer loyalty or rewards program
• Multi-language support with automatic language translator
• Touchscreen content auto-adjusts to meet ADA Requirements

What's Included?

You will receive an out-of-the-box ready to use touchscreen wayfinding solution. It will ship preloaded with your retail store map with directions, custom content, retail wayfinding digital signage software, and media player. Tell us the features you need then we will custom develop, test and set up everything for you.
When completed we will ship you a ready to use system that simply works:
• Waytouch Premier™ Retail Wayfinding Digital Signage Software
• All-Inclusive Creative Design & Content Creation
• Industry's Only Digital Signage Design Guarantee
• 1 Floor 3D Wayfinding Map with up to 50 Destination Point Directions
• Digital Signage Media Player w/ HDMI Cable
• Cloud-Based Retail Digital Signage Content Management (WI-FI)
• Full Training, Set-Up & Configuration
• 12 Month Technical Support
• Live Dedicated Support Specialist
*Note: additional per floor wayfinding maps and destination points can be purchased separately.

Product Instructions:
It is 4 Easy Steps
1. Place order
2. We will then setup everything for you and ship you a total solution
3. Connect the Waytouch Premier™ Media Player to your display or kiosk and WI-FI
4. Turn it on and you are done! The software with content will automatically load.
Learn more about retail digital signage:
What Are Digital Signage Wayfinding Kiosks?
6 Signs of Good Digital Signage Wayfinding
The Dummies' Guide to Interior Wayfinding Digital Signage
Creating An Effective Digital Signage Wayfinding Solution
3 Factors That Affect Retail Self Service Kiosks
Calls to Action5 Benefits of Retail Kiosks
View more retail digital sign solutions
Turnkey Retail Digital Signage
Touchscreen Retail
Pinch and Zoom 3D Map Views
Enhanced 2.5D Map Views
Standard 2D Maps
Local Area Attractions Map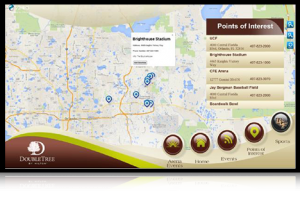 How to create an aww-inspiring shopping experience that increases sales and grows brand loyalty using new interactive technologies
Shoppers today are in a rush. However, they still expect a good experience. Easy store navigation to products and real-time notifications of sales are both examples of an engaging shopping experience.
In-Store Entertainment
According to a recent study by I Am Omnichannel, 70% of women and 50% of men believe shopping is as a way of entertainment. At the same time, 70% of customers think digital signage is entertaining. And 30% of customers who engage with a touch screen retail digital sign end up making a purchase. Let me explain.
Entertainment is fun. When something is fun, it is something we take valuable time out of our busy day for it. Consequently increasing the entertainment component of shopping has become a focus of retailers everywhere. Touch screen retail digital signs are 'fun' to use and tend to influence and astonish customers.
21st Century
Since the evolution of cellphones, apps, and the internet shoppers now anticipate and appreciate using technology on a daily basis through every fascist of their day. How can retailers today accomplish this?

It is like an app
After meticulous planning and new updates especially for retail we released the Waytouch Premier™r – a state-of-the- art total touch screen omnichannel wayfinding redtail digital signage solution. This all-in-one system eloquently connects your customers to on-demand information. Turn by turn directions to specific products, aisles, your weekly ads, and customer loyalty program are examples of what you integrate into the content of the display.

Carefully designed for retail
You will receive an out-of-the-box ready to use touchscreen wayfinding solution. Simply let our design team know what you would like the system to consist of. We will then create all of the content, graphics, and set-ups everything for you. The final product you receive will be plug and play ready to use!
Pinpoint store wayfinding
Included with the Waytouch Premier™is the creation of 3D pinch and zoom maps. Connected to the map is a searchable directory for products, bathrooms, ATMs, aisles, and other departments in your store. When a selection is made the customer receives turn by turn directions. This convenient access to store information dramatically improves shopping experiences. It makes it easier for the customer to view, locate and receive immediate answers.
• Built-In touch keyboard
• Store directory linked to map
• Send directions to phone
• Wheelchair friendly routes
• Multi-language maps
Daily changes
Daily sales, specials, announcements and other multimedia changes can be done in minutes using the included cloud-based content manager portal.
Save time
Once the system is installed, it is self-operational. Settings can be applied for pre-scheduled Power ON / OFF. Every time the system turns on the Waytouch Premier™ retail digital sign software automatically loads itself.
When placing your order simply let us know which features you would like and our graphics design team will creatively incorporate everything you need into the digital signs interface.
You can select as many features as you'd like and you'll always receive the same flat-rate price from us. We do not bill by sets of features, by "slides" or design time.
What the combination of features would like to incorporate into the displays interface?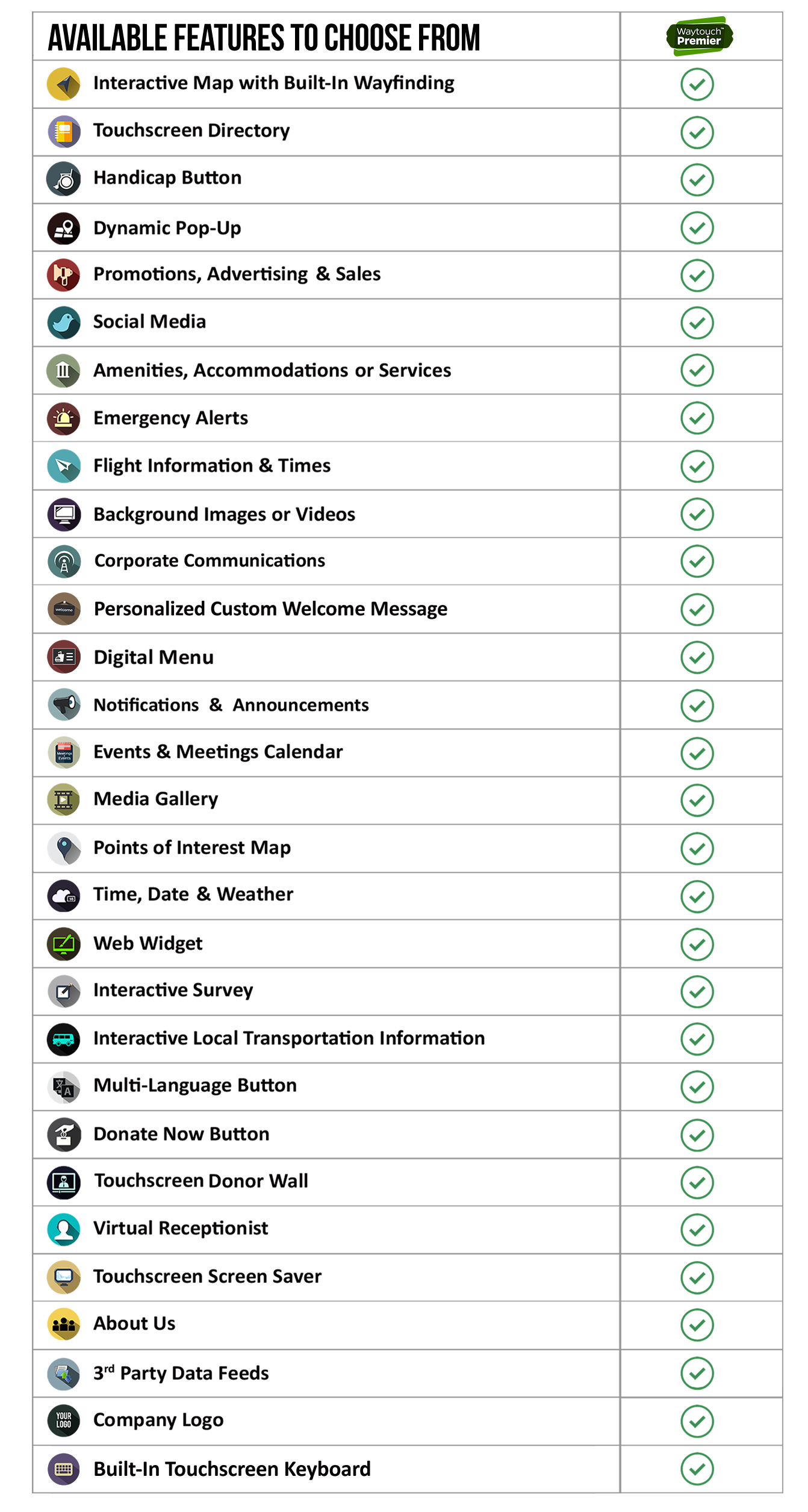 Use Your iPhone To Update The Signs Content
This practical yet powerful solution enables you to efficiently update and manage all day to day digital messaging and media remotely from any device, anytime.
Every update you make will instantly be enhanced, adjusted, and fine-tuned by our software to match your contents precise theme. Text, images, videos, scrolling messages, menu prices, directory listing, event times, product descriptions, advertisements, welcome messages, and other forms of media.
• Make changes to content remotely from your iPhone, Android device, tablet, or computer.
• Every image and video auto re-sizes to fit the media zone just right.
• All text updates you input are auto-optimized to match the existing font size, color, and style.
• Changes you make to the content is saved then wirelessly pushed to the display within minutes.
• No annual software license costs or renewal fees for content management.
• Multi-User / Multi Admin control levels are available.
Industry's Only 100% Digital Signage Design Satisfaction Guarantee
We guarantee you that your system's content, design, and layout will meet your exact expectations.
• No strings attached, no hidden costs, no additional charges for 'design time'.
• All requested features will be properly incorporated.
• Your branding requirements accurately executed.
Request information today
"These are the most intuitive, logical, and well-designed solutions on the market today.  We can easily manage all content, event updates, and live feeds."
 -Doug T
 "Your team went and above and beyond! The final product meet our exact  requirements - a superb layout, beautiful graphics, and the software is so easy to use! Thank you"
 - Natalie Z
 "I could not believe all of these amazing features came built-in standard. I told them what I wanted, and they designed a beautiful easy to manage. What a great experience!"
 - Kelly M